Some of you (well,
Fluffy
and my boyfriend) may recollect that the Bright Lights of Hollywood are coming to my neighborhood (hurray!) in the guise of a secondary unit film crew deputised to film some undoubtedly ghastly country-bumpkin fair sequence for a forthcoming
movie of Charlotte's Web
. I've been
following
the
story
, dull as it is.
Now, since sorrow at sills bend is only a sort of foetus on the blog life-journey timeline, my sitemeter almost never shows anyone arriving here from a search engine query. But during the last few days I've copped a startling number hits of this type. Sadly, none originated from rude / amusing searches like the cool blogging kids get: no. They are ALL ABOUT 'Charlotte's Web Movie Australia Heidelberg Park Filming Casting Call Extras Needed Shoot.'
They are always saying in the Opinion pages that Australia needs more public intellectual types to conduct discussions of subjects that the Lumpen Ones are interested in. So for the next little while, that's what I shall try to do.
Welcome to....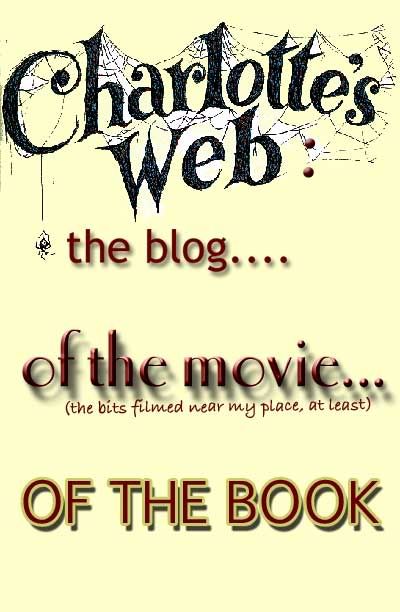 If you've come here looking for information about the Charlotte's Web movie, YOU'RE IN THE RIGHT PLACE! Leave a comment so I know you were here! Bookmark this page so you can check back often for up-to-the-minute facts, gossip, innuendo and speculation!
Here is what I can tell you already:

- Charlotte's Web is about a pig and a spider! It is set mostly on a farm in country USA sometime in the 1950s!
- It is being partly shot in Melbourne because Melbourne is exactly like 1950s America!
- The movie stars Oprah! Steve Buscemi! Andre 3000! and Cedric the Entertainer! and Julia Roberts! and many other famous actors!
- But none of these people will be coming to Heidelberg because they are all doing the voice parts for cartoon animals!
- If its movie stars you want, you will have to be content with nasty little Dakota Fanning!
- They have already had one casting call for extras! However, I think there may be another session coming up! At least, I think it said so in the Herald Sun! This Saturday, at Heidelberg Theatre, Buckingham Drive! Wear Jeans and a Blouse!


If you're going to try out for the crowd scene, or even better if you've already been hired, I am keen to interview you, either by email, or preferably in person on one of the filming days. This could be your big break! Easier than going on Idol, and infinitely cooler too. Your chance to tell the millions of readers of this blog all about yourself. Just leave a comment with your email address in the appropriate box and I'll get in touch.