The Heidelberg Leader has been closely following the action on the
locally filmed Charlotte's Web movie
front, and this week they have an actual piece of news to report. There is an open call for extras to appear in some kind of rural hoedown scene.
(I haven't read the book for about 25 years so I don't know what bit of the story this might correspond to. Anyway)
I assume this is a paid gig since it goes for nine days. Filming is next month. You have to look sort of like you might fit in in Small Town USA circa 1950, so no facial piercings or visible tatts.
If this sounds like your type of scene, you'd better get a move on since the 'audition' is taking place today, until 3.30pm, in the Banyule Theatre (strange bunker-like structure opposite Rosanna Station.)
Although I could do with some money, and am always interested in learning more about how movies are assembled, I will NOT be partaking, largely because of this paragraph: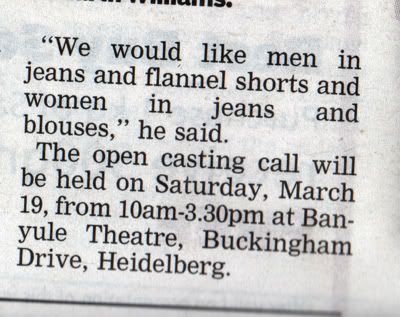 Jeans and 'blouses' ?? EWWW. What is THAT about? My teeth ache just thinking about it. I don't actually own a pair of jeans, but if I did I'd rather go around nude from the waist up than wear them with a 'blouse.'
And thanks to the high production values of the Leader, all the fellows will show up in exactly that state (ie, topless) with strange itchy tweed
Terry Sullivan
knee pants worn over the top of their acid washed Staggers.
I'd pay to see that.