Breaking news on the Charlotte's Web Movie, Heidelberg Park Australia front.
I did a bit of Google research of my own this morning, and was rather distressed to find that most of the filming is actually being done in some poxy little country town near the Wombat Forest called, incredibly,
Greendale
. I also learned that according to Mum's Favourite Premier (TM), this alleged movie is going to
'put Melbourne on the map.'
Now that's something we can all look forward to, yes indeed. Honestly, I'm embarrassed for him.
So, on to the scoop, which is of such gargantuan proportions that it may actually explode the Internet. We went down to the park a few days ago to see what's happening....and stuff
is
happening!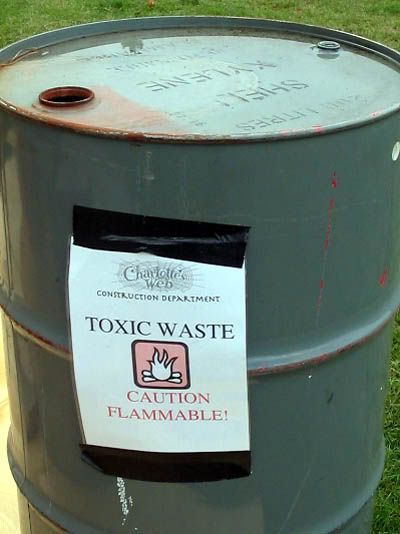 Encouraging, isn't it?
They set up the ferris wheel right over the top of the cricket pitch.
One of several huge holes smashed in the playing surface. Admittedly, that is quite a cool merry-go-round.
Looks rool 'olden days', don't you think.
Quiz: what's in here?
a)
asylum seekers
b)
Dakota Fanning
c)
the REALLY toxic waste
d)
b and c. First correct answer wins a slice of talking bacon.
Although the security fellows were actually very decent and didn't interfere while I went round taking pictures, going through bins etc, I have to say that I still felt like picking a fight with them. Perhaps this project is not something I ought to be pursuing, because this type of use of public open space always fills me with rage, no matter where it is or who is doing it, no matter how worthwhile the project, or how much has been paid to the authorities for the privilege of temporarily excluding the riff-raff. Yes, I know how stupid it is to react like that. But it has an almost physiological effect on me, like an allergy or something; my face gets hot and red, my scalp prickles, my breathing becomes rushed and shallow. The last time this happened Dorian and I were walking over the street to get to the Flatiron building in NYC and a very large man stepped in front of me and put out his hand, saying 'You can't cross.' I looked to the left and saw the horse-faced SJP from Sex and the City stomping along the pavement in front of assorted cameras, lights, emaciated women brandishing powder puffs etc. Scalp prickled, etc, etc. I know i shouted at the man but I don't remember what. It was only a minute that we had to stand there, though, which was lucky really.....
Well, back to the local scene. It looks like it will be all systems go pretty soon. I might go down there later today to see what's happening. If i never post here again, tell the police to look inside the shipping container.