I may have
mentioned
already that a hollywood studio is shooting a part of their Orrible movie on the football field at the end of my street this month. Well, they will start filming sometime soon, I guess they must nearly be ready by now.
Since they spent the last week and a half up in cherry-pickers
spray-painting the trees yellow and red, that is.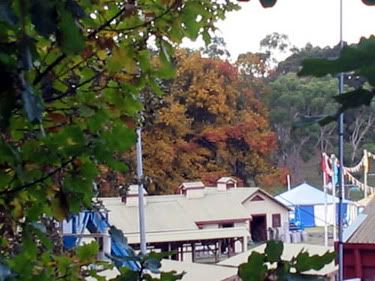 People of Victoria: look out the window. See any elms or oak trees or other non-native species? What colour are the leaves today? Are they mostly green but with little yellow and brown and red patches? Are they getting browner and more autumnal literally by the day? Are there fallen leaves accumulating on your lawns and nature strips? It's all true, isn't it.
These trees have drop sheets round them. See those hessian-bag type things on the ground? Tomorrow these trees will be baby-poo yellow with flaming swathes of Julia-Gillard-red. Can't wait.
*special thanks to Security Guard Kev, who tells me whatever I want to know.*