I don't know whether to be cross with the University bookshop for actually stocking this item I purchased on Friday, or to cheer them for marking it down to 50c and throwing it unceremoniously into the Sale Bin of Shame. Probably the latter, on balance, since I now have a piece of sterling and seasonally appropriate blog fodder which will require very little glossing on my part in order to bring out its heady and pungent delights.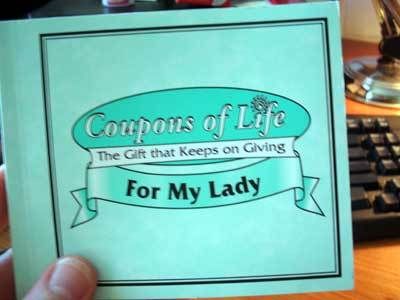 The "book of coupons" gift is somewhat on the nose to begin with, unless it's a custom made Mothers Day present from your ten year old or something. No excuses for giving someone a preprinted set, and absolutely no excuses for actually presenting your significant other with something labelled "For My Lady."
The first page reads:
For My Lady .............
I honour you with these
Gifts of Love.

Valid for one (1)
year from date of receipt.
Love,

Signed..........
Dated...........
The first coupon is fairly tame.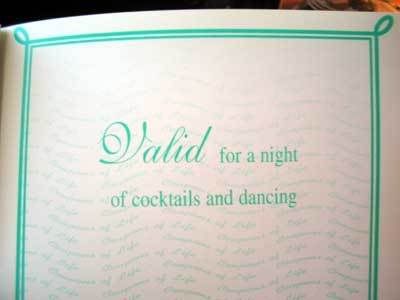 But the second one begins to give the game away.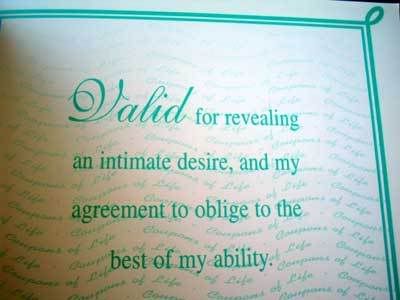 Sorry who exactly is getting a treat here? How nice is that "to the best of my ability"? i.e., "I will have sex with you, but only until I want to go to sleep."
The high standard of graphic design achieved in these two examples doesn't vary in the rest of the book so I didn't bother with any more pictures.
Subsequent coupons:
"VALID for one win to an argument, discussion, or fight, without recrimination."

"VALID for one (1) day of receiving compliments or flowers, without it having to be a special occasion."

"VALID for an evening together at a restaurant of your choice - my treat!"

"VALID for a cultural afternoon together at an art gallery or museum of your choice."

"VALID for a day void of any personal criticisms from my big mouth."

"VALID for one (1) neck or foot massage after a hard day."
It's great how the Lady gets "one (1)" voucher for all these treats. Every other day she just has to suck it up.
"VALID for a new hair style or perm - my shout."
Every girl's dream. Hands up ladies whose
owners
men have shouted them a perm recently...
"VALID for one (1) new set of lingerie, or outfit."
See again coupon #2. Also note no mention of shouting here.
And then, an unbroken run of awesomeness....
"VALID for one (1) sit down and relax tonight while I cook dinner (or I'll order take away delivered if that's too risky!)"

"VALID for one (1) night where you have jurisdiction over the T.V. remote control."

"VALID for one (1) get out of annoying chore, if asked."

"VALID for a night just talking with the T.V. turned off."

"VALID for getting my undivided attention if there is something you think we need to discuss."
The last two vouchers in the book are blanks "to be filled in as desired." I imagine most recipients use these to ask for a proper gift next Christmas and next birthday. Or else to ask for a divorce.