It feels like a very long time since I've been near the Internet: since last posting on Christmas Eve I've only checked my email two or three times and looked at my bloglines subscriptions exactly once. This came about from a combination of reasons, chief among them the irreparable brokenness of my own computer and profound, hysterical envy of the half-dozen people whose blogs I read who have been enjoying themselves at this year's MLA convention in Washington DC. That, and the fact that part of the Xmas booty littered around the house was a set of DVDs containing three whole seasons of
Black Books
. My inner monologue now speaks with Dylan Moran's accent. And I threw out all the terrifying old weird crumbling foodstuff in the pantry and scrubbed the shelves till it hurts your eyes to look at them. I've been reading Manning Clark's
History of Australia
as well: the disgusted Bernard Black inner voice has come in handy on almost every page. I'm up to the Eureka Stockade. Bet you I don't make it past Federation.
I'm trying to remember the name of the character in
Catch-22
who is determined to test the theory that if life is reduced to grinding boredom, it not only feels longer, it
is
longer.
Rejoice that I have decided to spare you lengthy descriptions of our festivities, except to point out that it is completely unacceptable for New Year's Eve to happen on a day when the thermometer climbs to 43 degrees celsius (110 fahrenheit) and it feels like the house is a pizza oven being attacked with a monstrous blowtorch. It took me two full days of pain to get over that, because I am weak. The blinding scorching heat cost me money, too: in a moment of lightheaded stupidity I made a bet with Dorian, as we left home in the early evening of the last day of 2005, that a louvred photocopier sorting attachment-thing which has been adorning the nature strip in our street for at least the last two weeks would have been carted away or possibly smashed by drunken merry revellers before we got home, of course it's still there and will be until the Last Trump, so I had to pay up.
I think Brownie must be a telepath, because she said Basil hated his black leather collar with its stupid chunky fluoro green ID tag, and he promptly lost it the next morning. That's OK. All the hipster cats will be wearing bottle green elastic collars with blingin' gold nametags in 2006.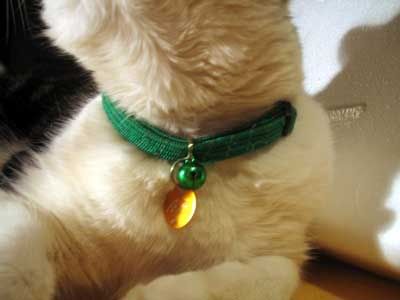 Do all cats look like Muppets photographed from this angle, or just the ones with unkempt neck fur?
Thanks to the very great benevolence of our credit union, I got a new thing too.
Mwah hah hah hah haaaaaah!
It was on special!
Wonder how long it's going to stay all shiny & white! Probably not very long!
In the interests of giving equal time to both suckerish shopping euphoria and anti-corporation earnestness, here is a picture of the installation
Barbara Kruger
is currently showing at the Australian Centre for Contemporary Art. Go see this if you find yourself wasting energy on desiring possessions you do not need.