10.30am
Well, here I am, sitting in the back yard surrounded by mountains of crapola. It's Sunday, the sun's shining, the neighborhood is plastered in yellow signs, and the first punter just walked in. Are we going to sell
it all?
any of it?
I am particularly eager to dispose of:
Big picture of the Queen sitting on a horse
Electric typrewriter (yeah someone's really going to buy that)
I feel it's important to get rid of these ASAP.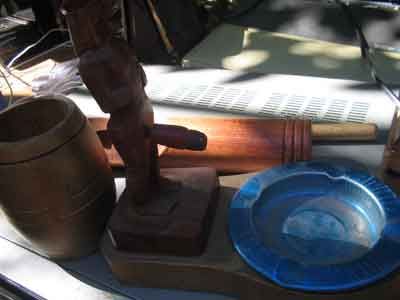 Er, and this. The barrel sits over the top of the man and when you lift it off his penis vibrates (it's mounted on a spring.) Don't be asking.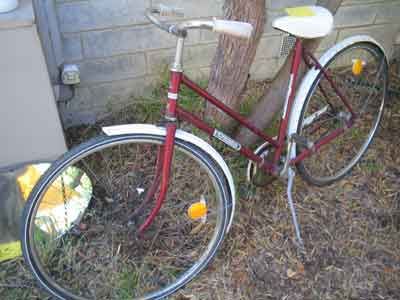 Aged Malvern Star pushie that we scabbed out of a pile of hard rubbish awaiting the collection truck
back in March
and which has lain around the back yard ever since... going for $5 or nearest offer.
Of course, it is the best day of Basil's life, ever. He's smelling everything, attacking everything, miaowing at strangers, trying out all kinds of poses on top of and inside of boxes, and generally being a giant catnerd.
While typing ai already sold a bunch of old plates and a tablecloth, five bucks, woo hoo! Here's a 'before' shot: hopefully it'll all be gone by sundown.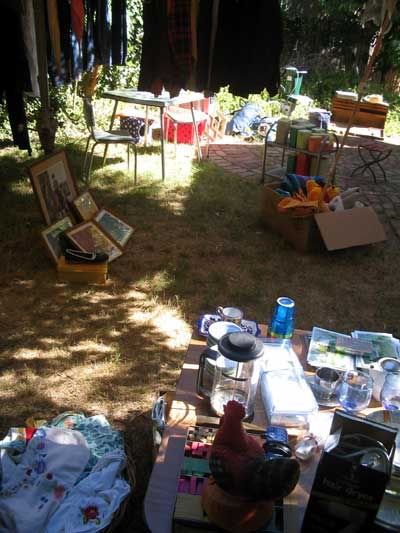 Well here come some more people. Better go....
UPDATE 12.30pm
Okay, we have sold about $90 worth of junk. Not the barrel dude, not anything off that list, actually. The chicken thing is gone, though: for the record, it was a rubbery rooster thing with a motion sensor light in the front. Put two AA batteries in the base and hey presto! whenever someone walked past it let out a deafening ROO-ROO-ROO-ROO-ROO! Broken now of course. Sold for $1.
Also sold: shoes, toolbox, playstation games, tubes of oil paint, deco mirror, winnie the pooh, miner's head lamp, tuxedo, pink umbrella, chinese silk robe, decision maker keyring, travel hairdryer, assorted tiny pieces of garbage.
As I sit here typing, on the other side of the table is a Mac bore. He's been there rabbiting away for at least twenty minutes. How can we get rid of him?
UPDATE 1pm
He just left. Praise be.
UPDATE 3pm
Just sold the didjeridoo ($5), 500 piece jigsaw of the Acropolis (50c), and a tin of Shrek 2 lollies (50c). They were disappointed we had no Demis Roussos, Nana Mouskouri or Kamahl albums.
Aside from that small burst of excitement very few people have come in. I fear boring Mac Man put a jinx on our garage sale, curse him.
Still no action on the Queen picture front. FYI she is not actually the Queen in that photo, but HRH the Princess Elizabeth, wearing her ceremonial uniform as Colonel of the Grenadier Guards. The Horse's name is Winston.
FINAL UPDATE 5.30pm
Well it appears the fools around here don't know quality garage sales when they see them. After the last update I don't think anyone else showed up. Thus the grand total of takings never cracked the $100 mark - PATHETIC - and there is still a scary amount of junk sitting out in the yard. Three unused beach umbrellas! A 16mm movie projector! "Novelty" ashtray with outsized wiggling phallus! (believe it or not, it was a gift given to Dorian in the work Secret Santa a few years ago) A Fowelers Vacola preserving kit, a huge aquarium, a sombrero, all cruelly rejected. And now I'm inside sitting under the air conditioner eating chilled strawberries and radishes. Basil is still out there doing this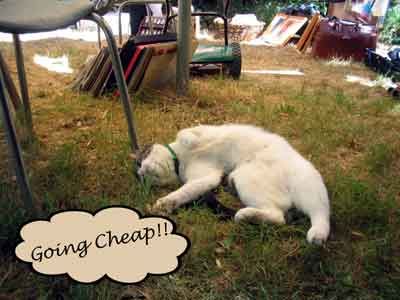 little suspecting there will be no more Magi come to marvel at his attractiveness. Not today, anyhow.