My ongoing blog project - documenting Melbourne's open-air public sculpture in words and pictures. Suggestions for future episodes are more than welcome.
#21
Children's Tree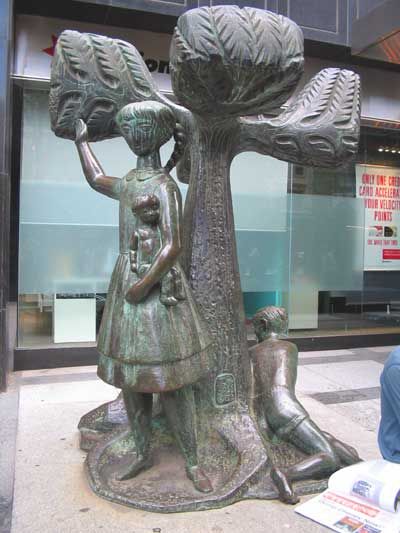 Corner of Elizabeth and Collins Streets, City
Though I've lived in Melbourne for fifteen years, this lovely thing was not known to me until
Mel
suggested it for a spot of statue-blogging way back in
April last year
. I've had several goes at photographing it since then (including one nighttime effort) but only today were the results at last good enough to use, probably because it rained heavily before I arrived and the sculpture was consequently much cleaner than usual and the clouds kept off the harsh light that creates confusing shadows.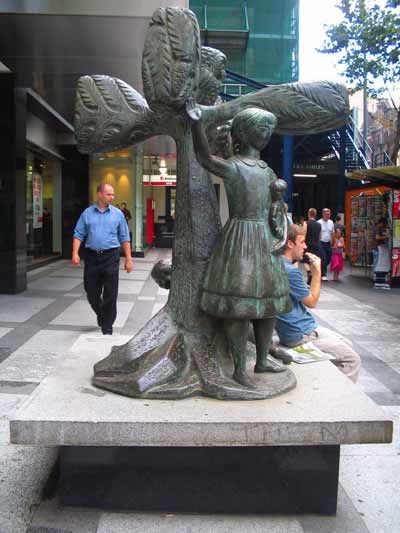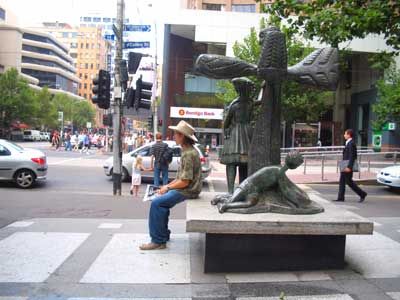 Tom Bass
made this in 1963. Bass was born in 1916 and has had an illustrious and productive career making what he calls "totemic" sculpture for grand and esteemed Australian places - the University of Melbourne, St Mary's Cathedral in Hobart, the National Library of Australia - interestingly enough, institutions that combine pomp and overinflated display with legitimate cultural and spiritual significance. I haven't been able to find out who commissioned this sculpture, but I'd be very surprised to learn it was a corporate client, this is just too simple and relaxed - not a hint of striving or straining.
The sculpture is cast bronze mounted on a rather ugly low rough granite table. It represents a girl and a boy under a strange stumpy-limbed tree with an owl perched in its branches. The girl is taller than the boy; she holds a dolly to her side and lifts her other arm to touch a branch of the tree, body and palm facing outwards from the trunk. Behind her, the boy sits on the ground, peering round the tree trunk at a lizard coiled in a hollow between its roots. The bronze segment is only about 1.7m high - the children are smaller than life-size, as is the tree they are grouped around, but the animals (the owl especially) are much larger than life.
The tree (which has the strange quality of looking like a drawing, perhaps one by
John Coburn
, that's been modelled into three dimensions) and the animals are carved and patterned and textured, but the children are smooth. Their bodies are simplified and streamlined - they're halfway between modernist simplifications of the body like Henry Moore's and 1950s Little Golden Book children like illustrator
Mary Blair's
(perhaps not so much difference there anyhow.) At the same time the hands and feet and the girl's springy plaits are wonderfully natural and casual and alive-looking.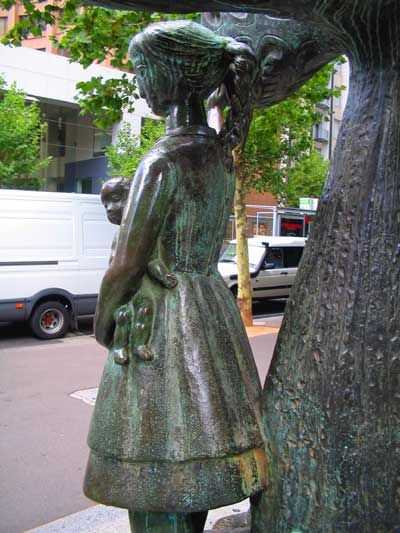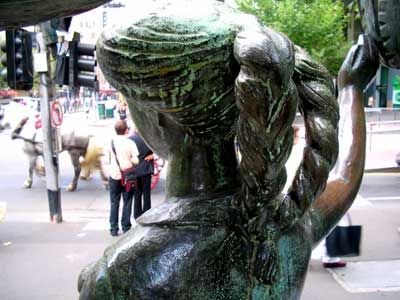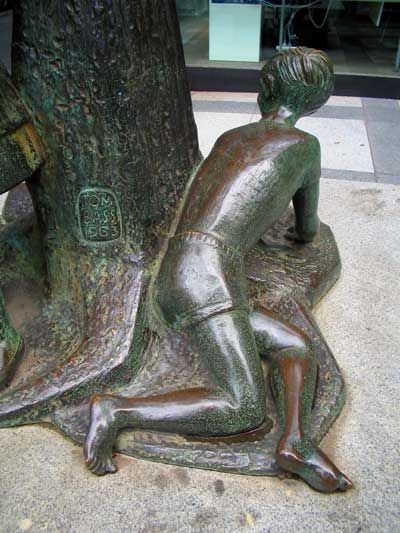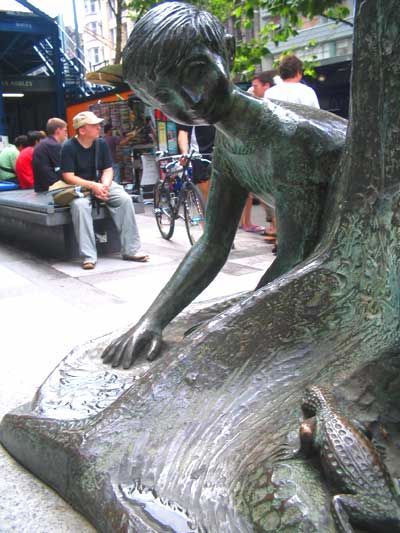 Much as I like this sculpture, I must note the rather extreme gendering going on in the tableau: the boy is playful and inquisitive and attuned to his surroundings, the girl is distant, both maternal and doll-like, in an archetypally feminine-enigma kind of way. They don't look as though they live in the same era - I think she looks much more ancient and archaic than he does, he's a very modern child - but then again, this could be seen as simply registering the typical developmental gulf between a twelve year old girl and her six year old brother.
The animals indicate that this tree is in a wild place, not a home place - not a backyard or a public park. I wonder if these are lost children? Most settler children roaming the Australian bush are lost ones, in myth at least. I can't help feeling that the ugly, careless placement of the sculpture (it doesn't line up evenly with the grid of paving stones underfoot) and its general grubbiness and neglect are signs that nobody's looking out for these kids.
Nobody but the owl, that is....the owl absolutely makes this sculpture for me. It's exquisite. But then what owl isn't?