Some people don't seem fully convinced that you can really & truly get good stuff for your house by adopting Womble practices ("making good use of the things that we find, things that the everyday folk leave behind.")
So I thought I'd show those people the amazing "new" couch I am presently sitting upon.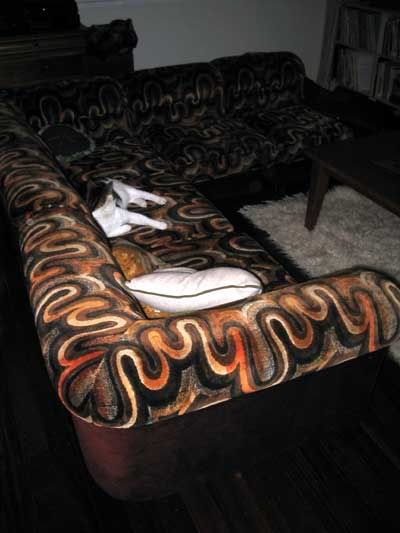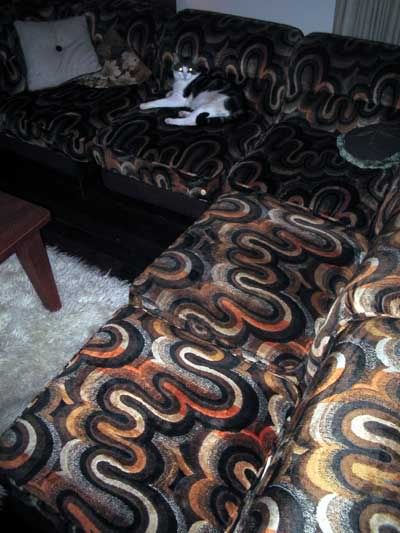 It is brown. It is orange. It is velvety! Swirly! MODULAR!! GOES ROUND CORNERS! Science Fictional! Pucci-esque! Should probably be in the first-class transit lounge at LaGuardia in 1977! But was actually made by "Zonderosa" of South Melbourne! And someone left it on the footpath, bizarre, but true. Gues it was just our lucky day. (We are due for one, because the car is broken and the garage can't figure out what's the matter with it.) Apart from smelling a bit odd it's in pretty good condition. And FREE FREE FREE. That's a massive saving of INFINITY!!!
Since I took these pictures we rearranged everything and the sunken lounge looks so cool I had to play a Curtis Mayfield CD in its honour. The cat loves it too.
edited to add:
the correct spelling of the company that made this furniture. Does a Googlewhack count if it's the name of a defunct suburban purveyor of chairs to bachelor pimps?