In your honour: a Birthday feast recipe, and a party game for the Amusement of your Grateful Friends.
Face Whiter than (White Nectarine) Whipt Syllabub
Indeed, my dear Freind, I never remember suffering any vexation equal to what I experienced on last Monday when my Sister came running to me in the Store-room with her face as White as a Whipt syllabub, and told me that Hervey had been thrown from his Horse, had fractured his Scull and was pronounced by his Surgeon to be in the most emminent Danger. "Good God!" (said I) "you don't say so? Why what in the name of Heaven will become of all the Victuals? We shall never be able to eat it while it is good.
- Jane Austen,
Lesley Castle
to produce enough White Nectarine Syllabub to give four people an impressive sugar/fat high, you will need:
five tablespoons from a bottle of dry white (drink the rest)
40g caster sugar
one tablespoon lemon juice
one tsp fine lemon zest
six white nectarines, peeled, stoned, and cut into thickish slices
150ml full fat cream
dessert biscuits and some slightly tart fresh fruit to serve: I like strawberries.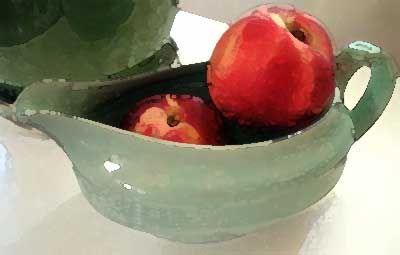 White Nectarines in Woods Ware Beryl Gravy Boat
(see footnote at**)
Mix up the wine, sugar, lemon juice & zest, put the nectarine slices in, leave it soaking in the fridge for at least two hours.
Drain out the nectarines but keep the liquid. Divide the fruit slices between four glass dessert dishes.
Whip the cream with the reserved liquid until it stands in soft peaks. (This takes quite a while if you're not using machinery.) Spoon it over the fruit, decorate with a bit of finely cut lemon rind on top, put in a couple of strawberries to cut down somewhat on the general impression of extreme calorificity, and poke in some dessert biscuits because those things are
pure class
.
I fully intended to "cook" this myself, but Dorian's not home tonight, and I've already eaten most of the nectarines. So maybe not.
Part Two of Birthday Celebrations: Monster Janeite Quiz!
(Okay, I have lost my own quiz, or the website is down or something. I'll repost the link when I'm sure it's working.)
Fifty questions about Austen's fiction (one of which I managed to enter the wrong answer for - and I can't figure out how to change it - sorry!! It's the one about who advises Anne not to marry Wentworth, I ticked Mrs. Croft it seems, not Lady Russell, d'oh! I sense a pattern of half-arsedness emerging...)
Before you write me off for ever as hopelessly insane, these are questions I used in an exam I gave in a Jane Austen subject some years back. The ostensive reason for the exam was to ensure everyone actually read the books, instead of just Pride and Prejudice, but the
real
purpose was to indoctrinate as many innocent victims as possible into the arcanities and obscure rituals attendant upon the cult of Jane...nyeh nyeh nyehhhh....
Consider yourself a true
Janeite
if you not only bother doing this quiz, but actually find it enjoyable. If you can answer more than forty of these correctly, go read
Austenblog
or join
JASNA
or
JASA
or
Janeites
or
RoP
or
AUSTEN-L
already!
Part Three of Jane's Birthday Mega Huge Party: As of yesterday I'm organising a massive Jane Austen conference, ETA Easter 2007. The theme of the conference is going to be, probably, "Jane Austen and Comedy." The other theme of the conference is going to be the International Jane Austen, meaning, we're going to try very very hard to involve people from all over the globe. We have some money to subsidise a very limited number of delegates from out of the way places. I have lots of ideas flying around in my head for how to make this happen, and for how to make the event accessible, via the Web, to people who cannot travel and who have limited resources generally. For instance, I'd really, really like to produce a nice online edition of edited, peer-reviewed papers on Austen and the comic (by the way, a seriously under-researched subject) and make it available under a creative commons licence so that it could be downloaded and generally used in all the standard scholarly ways but without involving copyright hassles.
The first thing I've go to do is find out about Austen critics and scholars working outside the English language academic community. On the off chance that somebody reading this knows of any such person or persons, I'd be very grateful for the tip.
That's all I really have to report for now. Expect to be bored to death about this over coming months.
**Now for the footnote, which will be of interest to nobody at all: some time ago,
Zoe
kindly recommended Ken Russell's interesting sex-archeology-countryhouse-vampire farce
Lair of the White Worm
: I'm so glad she did, because now I have another English movie / tv show to add to the list of illustrious productions featuring guest appearances by the lovely green 1930s-1940s china called "Beryl", by Woods Ware.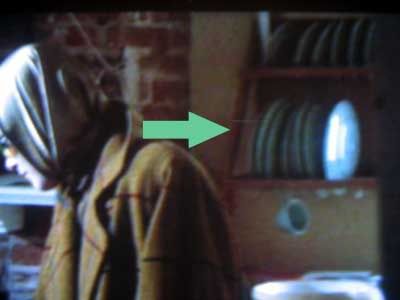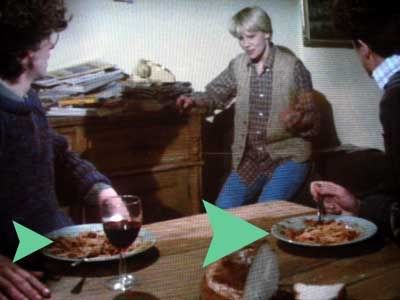 Stuff Hugh Grant, it's a Green Plate!!!
Also seen on
Dr. Finlay
.
All Creatures Great and Small
, and very occasionally,
The Bill
.