It's the 7th of June, and by rights it should have been drizzling from low, thick clouds, cold wind whipping down your neck and around your ankles, damp umbrellas and puddles everywhere and everyone smelling of warm damp wool - but today was one of Melbourne's loveliest. Climate change, uh huh. I think it has rained once or maybe twice in the last six weeks.
Walking from my department building to the library this afternoon, I felt again the full force of how good it is that they gave me this teaching job for the next two years. I really, really love this campus and I am far from being ready to leave it behind. It took me a little while to see its beauty - maybe three years - but I did see it in the end. I think some Melbourne readers will recognise which university I'm talking about: I wonder how many of you have been down my path of thinking it the ugliest, godforsakenest spot in the state but ending up actually liking the way it looks? At first it looked to me, as it looks to most students when they first get here, like a collection of piles of flat suburban bricks trimmed with bronze aluminium window frames and square concrete pillars. Then, I started to notice the trees, the meadows, the birds, the water. The no cars. The near-complete absence of haranguing advertising signs. It's hard off-hand to think of another place I spend much time in where you can walk around and think, or not think, just as you choose, without having to worry about being run over or trying to block out media interference. The worst that can happen is a duck might try to bite you if you walk too near its ducklings. And that's only in spring.
The older parts of the university are all built of the same plain light brown brick rising in columns, with long windows between them, and simple flat roofs. The grass and trees and waterways run right up to the buildings. Being in these grounds year after year teaches you something about what style of living is intended, or aimed at, by classical architecture.
These photographs were taken in March, but other than the brightness of the light having mellowed a little, nothing much has changed.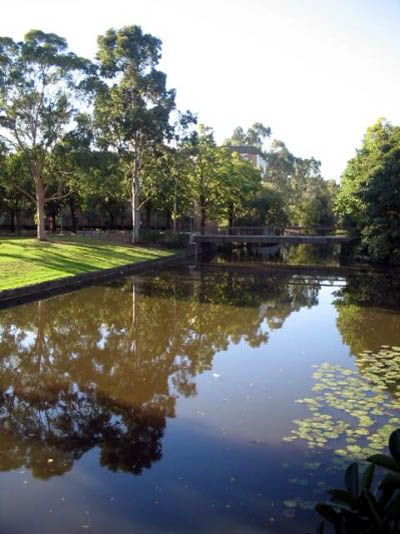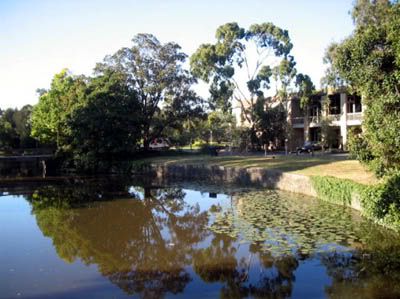 One day when I was a fair bit younger and sillier I stood on a bridge watching a gardener row a long flat shallow-bottomed boat up this body of water. "Just like in Brideshead Revisited" I thought to myself. "Eights and Blues and punts and tea on the river Isis." But then he stopped in the shallows, picked up a mean-looking metal hook, and proceeded to wrestle a weed-covered supermarket trolley up out of the water.
I am overjoyed to belong to the most bogan university in all the nation. Maybe in the world.
So yes, the weather is nice here at the moment. I hope my weather-enhanced feeling of contentment lasts....