Ok, here's my project: (actually, it's a meme!) Every Friday I do a different piece of sculpture selected from the vast numbers littered around lovely Melbourne. My only criteria are: it must be outdoors, it must be more or less permanent, and it must be in a publically accessible location. (Suggestions, especially for sculpture in the 'burbs, are very welcome.)
#12
Larry LaTrobe
City Square (corner Collins St and Swanston Walk), Melbourne CBD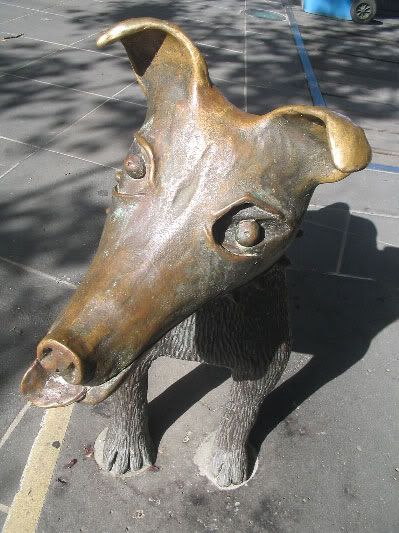 "Larry La Trobe" is the name of this cast bronze dog statue. (it seems Melburnians are a bit keen on
dog sculptures
, in general.) It was made by
Pamela Irving
in 1992, under commission by the MCC like a lot of the other stuff put in around the place at that time. It's about 70cm high, and very securely bolted to the pavement.
This statue is a minor Melbourne celebrity. Technically the statue in the photos is a copy of the original, which in a low comedy echo of the
Weeping Woman affair
, was stolen from its location (I seem to remember it was nearer to Swanston Street originally) in 1995, and never recovered. Local newspapers and radio set up an enormous "
chase for Skase
" style carry-on, and at last the MCC entered a 4m high float based on the statue in 1996's
Moomba
parade, but even this failed to stir any pangs of remorse in the thieves. When the statue still hadn't turned up a year later, Melbourne
gallery owner
and all-round rich person Peter Kolliner paid for a new one to be made and installed.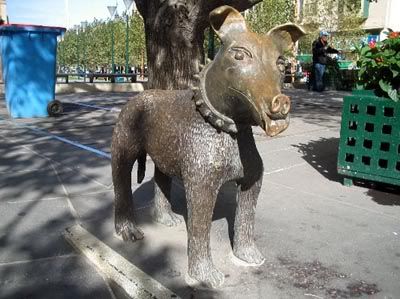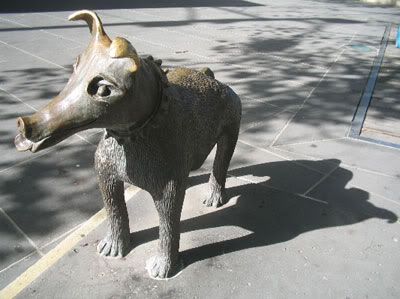 Larry La Trobe is not a sculpture I like very much. It is a bit cartoony and cariacaturish and cute for my taste; and to my eyes the wide barrel chest and studded collar make it look a bit like a pit bull terrier. It's nicely made, but it doesn't present any sort of challenge to the senses or the imagination, and with things like this the spectator can only get out of them as much as he or she is invited to put in. I do like that it's made of bronze, though, rather than some less traditional and permanent material. It's obvious from the polished surfaces of the head and muzzle that the statue comes in for a lot of patting and stroking.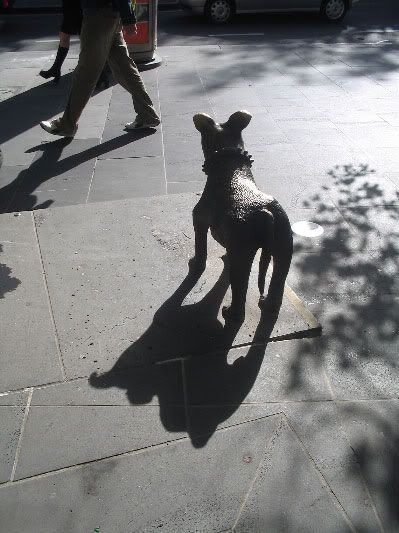 If "small and quirky" was the only kind of public art the authorities saw fit to buy for us, I'd be unhappy, but I can live with one or two bits. All part of the rich tapestry, etc.
As this is Statuary Friday #12, next week's post will be #13. I am kind of superstitious about thirteen - in a be respectful-of-the-Force kind of way - so for next week I'm planning a special bumper edition about Melbourne's Unluckiest Public Sculpture. Hope you can make it!