Well I managed to do a surprising number of the items on my list for the weekend. And now I'm bloody tired. Something I learned yesterday: do not attempt to vacuum bathroom benchtop until tray containing jewelery is safely out of the way, unless you want to spend the next twenty minutes kneeling over a mound of dust and fluff in the back yard looking for a pearl necklace and several stray earrings. I found nearly eleven dollars in the vacuum cleaner bag though, so it wasn't an entirely stupid exercise.
There is still an enormous mound of machinery and junk piled up next to the front door causing the environmental feng shui to take a drastic nosedive when one leaves the house. But that's okay. Maybe we'll line up a backyard blitz weekend sometime soon.
This afternoon we went out wandering and after a couple of dead ends ended up at Albert Park foreshore eating fish and chips sitting on the bluestone sea wall. I can never resist throwing food at the gulls, and you know what sort of behaviour that encourages in them, but I'll try a bit harder to contain myself next time. These birds went absolutely mad, flapping round our heads, behind us and above us, completely uncalled for. Seagulls really are disgusting, nasty, vile animals, naturally horrible, and made worse by hanging out with humans presumably. Their ignorant, selfish, narrow-minded little eyes. The drips of drool on the ends of their beaks. How's that nasty bitchy thing they do, with the neck bent downwards and the beak tipped upwards and the screaming at each other? It's just so unattractive. They look a bit less horrid in the air, though.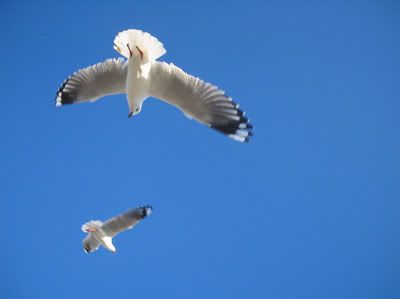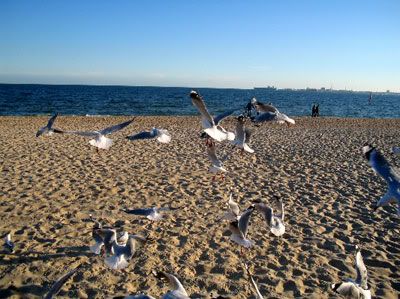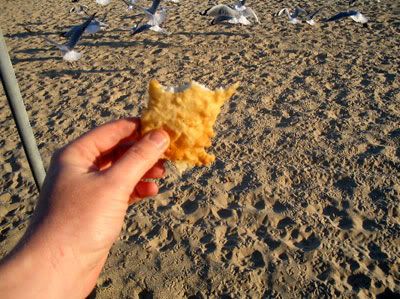 The ringleader of the vicious attack squad was a seagull with no feet. It got closer to my head with each swoop, and actually took food from out my hand. I guess only the utterly crazed birds survive after having both feet bitten off by fish.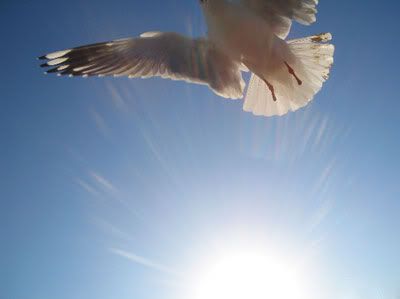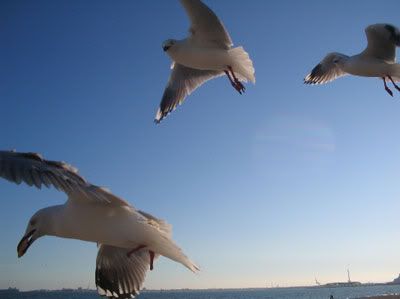 Why do they hang around us and scavenge instead of going out to the clean parts of the bay and finding their own fresh and clean food to eat? There weren't too many people down on the beach, though it was Sunday afternoon, and the sand was very clean, so it's not like there was heaps of food lying round.