Now that there is a kind of job coming up to keep me going for the next couple of years, I'm going to gradually wind up the handbag making business on ebay. It's not financially viable, and as I've grown increasingly stressed the last six months about not having enough money to keep up with the bills and rent etc, it's also become a deeply unenjoyable activity. I'll continue to make things and sell them on another self-hosted site, but I'll make far fewer, and make things that are really worthwhile spending my time on, and sell them for prices that correspond better with what they are actually worth.
I still don't feel fully committed to pursuing an academic career, however. The job market in my field in this country is so amazingly, mind-numbingly dire that it would be irresponsible and stupid to the point of delusion to plan any future that includes long-term permanent employment in the university system. For now, I just want to finish my PhD, and I want to see it published in book form, because I'd be so sorry to see all that work just shelved in the library and never seen nor read. Even I should be able to manage that within two years. I do believe what I'm writing is very publishable and even generally readable. The movies that are important to me and my argument aren't specially attractive in general but there is stuff in there about
Fight Club
so any eventual book will quite legitimately be able to display Brad Pitt's naked glistening torso on the front cover, which ought to satisfy any publisher.
Getting off track, there. I really meant to say that having spent so much time bloody thinking about handbags over the last few years means I have quite a collection of material for a book (or something) on feminine sexual masquerade and the meaning of the handbag down the last couple of centuries. (
Ampersand Duck
's comments on the last statuary post got me thinking about it again.) From the complete absence of handbags in Austen and Burney and other c18 women writers, to what Freud said to Dora about her little reticule and why she kept sticking her finger in it, to the apallingly capacious handbag Ernest Worthing was found in, through a bevy of femmes fatale and their jewelled evening clutches, to Grace Kelly's pregnant-stomach-concealing "Kelly" bag, right down to Marnie and her yellow, parading, vagina-shaped purse, where she keeps things she's stolen from men and also the succession of female masks she uses to trap them with: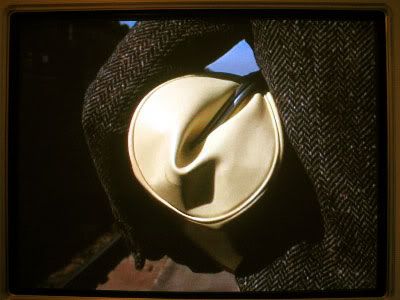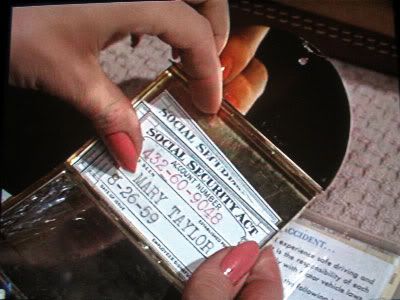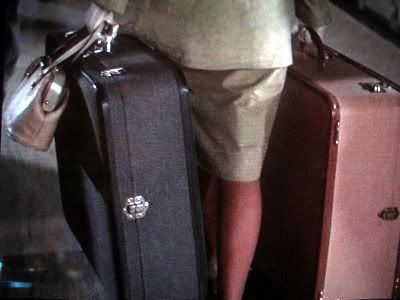 I don't quite see yet how it fits in but there is something too about the modern obsession with immorally expensive status symbol handbags, and the booming trade in fakes, and the hysteria-laden public arguments about the ethics of "real" vs. "fake" designer goods. I would want also to include
Kel Knight
's Manbag, just because I do love it so very, very deeply. There must I guess be more relevant handbag stuff from TV-land.
Do other people think wistfully about projects they'd like to take up some time, projects that seem like a ton more fun that whatever is on the plate right now? I have a mental drawer full. Are they just highly evolved stratagems for procrastination?