Kirsty
,
Sophie
, and
Pav
have all made pictures of themselves as Manga characters.
I tried to do pictures of the cats which didn;t work at all (and then one of Kevin Rudd which is almost right but yet needs a tweaking more vigorous than I can be bothered providing right now) but only the self portrait came out not looking mad. I'm not sure it looks as much like me as theirs look like them. (Special Language Log-authorised syntax in action, there.)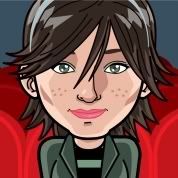 In this illustration I am sitting in a cinema, watching
Tropic Thunder
which really wasn't that funny. I'm looking smug because I just ate a chocolate and marshmallow icecream.
Now you
should do one of yourself
. I will be very happy to post it here if you don't have a blog of your own.