Debate continues to rage over the ---- ship door. Friends, I agree it is undoubtedly not actually a representation of the vessel of a scurvy marauder of the high seas, scourge of the Marquesas etc. But it's my door. I'm delighted and honoured to host the debate, especially since the discussion is so erudite and informative, but my opinion will not be changed. Arguing with me about it is a category mistake as profound as telling a three year old that her imaginary friend is called Albertine not Fwuffy. In my heart and in my dreams, a pirate ship door it will irrationally remain. As a student said recently, truth is only a perspective.*
Dr Freud would have diagnosed, annoyingly but probably correctly, "pirate door envy". This is the door I wanted to buy,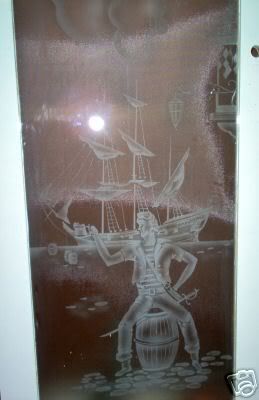 but the fellow wanted $400 for it, and it was being auctioned from somewhere in country SA.
On the subject of money, erudition, and useless architectural flourishes,
A. Duck
succinctly expresses why I am not jumping for joy about Costello and Bishop's $5bn fund for higher ed buildings and research facilities.
* She was trying to indoctrinate me into her godless pomo relativism....think I should write a sooky letter to the Oz?