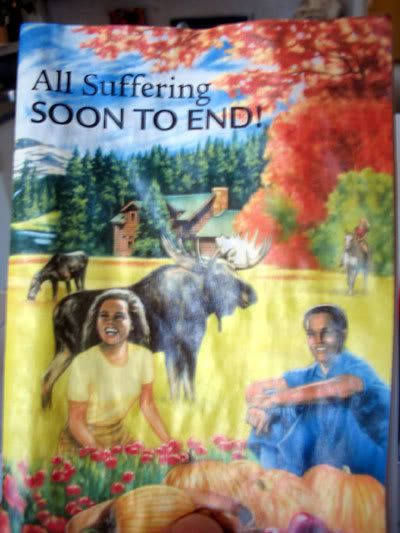 Some prescient godbotherer left this in our letterbox the day we moved in. Perhaps the most apposite piece of junk mail ever. Who does not dream of crouching highly amusedly in a patch of tulips on the prairie surrounded by pumpkins and mooses. I have derived untold comfort from it ever since, especially in those dark moments when I'm trying to do something pathetically simple and (under normal circumstances) easy, like hammer up a picture hook or get a lampshade to sit straight, or write a blog post, and I just CAN'T manage to do it properly without fecking it up good and proeper. In those moments I just sit back on my heels and instead of looking at the upside-down hook or the lame, lame post I fix my eyes upon my little Jesus pamphlet, and there is instant calm and all is well.
It works so beautifully I thought I had better share with fellow sufferers of all kinds. Especially Ms Duck and her colleagues at the ANU art school where the hailstorm did a great deal of damage to people's precious work, and Cristy & Paul whose baby is due very very soon (not that expecting a child is suffering but it's the waiting you want to be over.) I wish you both all the best with what's ahead.
Spare a thought also for Basil whose suffering consists of being locked up in the house when he can see a beautiful unexplored garden through the windows, and who gets out of jail free tomorrow. He has already won second prize in a prestigious beauty contest so there is nothing more in life which he desires.