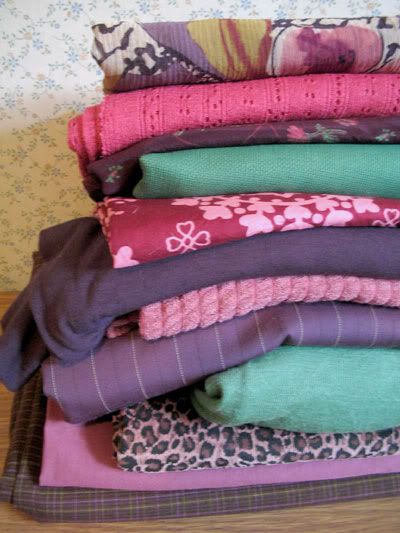 I was amused to read in yesterday's Age that making one's own clothes is, in another fine exercise in subeditorial punsmanship, "
sew hot right now
." Guess I shouldn't be surprised given that the
handmade/DIY
vogue (I don't like the word "craft") has been going strong for at least five years now and with all those young women buying sewing machines it was bound to happen sooner or later.
Still, surprised I am, if it is actually true that really making clothes (and not cutting holes in them aka 'customisation') has ceased to be extraordinarily daggy and started being hip. I'm surprised because good dressmaking is very, very difficult. For one thing you need to be able to imagine accurately how particular fabrics are going to react and appear when they are manipulated in certain ways. And as well as knowing how to sew properly, which isn't that hard to learn if you're patient and have some good sewing manuals from the 1950s and 60s, you also need to know how to alter a pattern so the garment fits properly, which is very hard indeed. Hanging around fabric shops, unfortunately you do encounter many women wearing bad and obvious homemade clothing with puckered seams and hems, droopy shoulders, misplaced darts and so forth. (Only very rarely do you see anything anywhere near as disastrous the getup
Keira Knightley
is wearing at GFY today, however.)
I have been sewing for a long time and am pretty good at the mechanics of it. But I haven't made much progress at all on the fitting / adjusting front. My general, not very satisfactory solution is to stick mostly to simple cuts and make things a bit on the small side so they ease up to the right shape with wear. In the right frame of mind I enjoy making tricky things like jackets but accept unless I fluke something they probably won't be worn. Dressmaking is a bit like a cross between knitting and making model aeroplanes in some ways, at least it supplies similar satisfactions, partly a kind of soothing trance and partly the pleasure derived of making stuff with your hands. Plus you get to buy lots and lots of nice fabric like all that stuff pictured above. I guess what I'm saying that dressmaking is not really an instant gratification type activity, but with patience and practice it can eventually become quite rewarding.
Well, the reason I'm posting about this is not only to bore you with my opinions on dressmaking, but also to ask those of you who are interested in such things to notice the decision of the huge fabric chain store
Spotlight
to take advantage of the federal government's new industrial relations laws and
make their retail staff
trade off weekend penalties and overtime payments for an across the board 2c per hour "pay rise" (up all the way to $14.30). I used to work in retail and the weekend penalty rates is all that made it financially feasible really. The worker who complained about this stood to lose $91.35 from her weekly pay. Read more about it in
Brian's discussion at LP
.) If you give a damn about stopping this sort of reversion to the bad old days then I ask that you
don't buy materials or anything else from Spotlight any more
. Part of the rhetoric associated with the DIY revival is that by making your own stuff you are not particiating in the exploitation of people who work in sweatshops and get paid a tiny fraction of the profits, well I think if that means anything it should also take into account the people who sell you the materials you use. A few good places in Melbourne to buy better and cheaper material than what you can get from Spotlight are:
Darn Cheap Fabrics Phone 03 94550699, 164 Burgundy Street, Heidelberg
Clear It! Factory Outlet Phone 9415 1339, 188 - 192 Brunswick Street Fitzroy
Rathdowne Remnants 60a Brunswick Road, Brunswick East, Victoria ph 9387 7444
More suggestions?