I'm thinking about the possibility of beginning to make bags again. Not at the rate I used to, more like one or two a week maximum. And instead of selling through eBay as before, or setting up yet another internet space, just offering them for sale through this blog. When I shut down my eBay shop in August I walked away from my customers with promises of a new independent internet space opening soon, but as soon as I looked seriously into the costs of doing that - not to mention the timesink of setting it up and maintaining it - I just let it slide. Meanwhile I am still getting an average of three or four emails a week from old customers saying Hey, where are you? Why haven't you opened your new shop yet? If I could just stop saying to them "soon, soon" and email them the address of this place that'd be simplest and nicest. In truth I got to hate the bagmaking towards the end, but lately feel like doing some more. Playing with cloth is very satisfying! Another thing: I could really, really use a little bit of extra money. All good reasons to start up again in a small way - but I don't want to get drawn again into an operation that is large enough require a big commitment or to generate its own momentum.
So a baggy post or so per fortnight here is looking like something I can keep a lid on, but the thing is, I really don't want to wreck this blog by turning it into something that looks like a money-extracting device. I wouldn't contemplate selling ad space, for instance - there's nothing wrong with doing that, it's just not for me, partly because I feel, rightly or wrongly, that I more or less "know" most of the people who come here and exposing you to third-party advertising would feel kind of weird. The analogy that springs to mind is Tupperware or Nutrimetics partying.
I would like you to call me on this if you think I'm deluding myself, but I think that selling handmade one-off goods is a victimless activity. I put a lot of work and thought into my bags and, even though I know it's conceited to say it myself, I think they're really beautiful. Not at all the kind of thing it's easy to buy except from hobbyists. Nobody gets ripped off, everyone's happy. Still, it
is
selling.
I can't make up my mind! Advice bleg!
To help you decide what kind of advice to give me I've put random collection of bag happy snaps under the fold (may take forever to load since most of these were filed before I learned how to compress jpegs)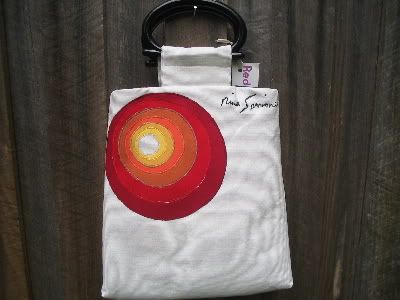 This one is a favourite - it's adapted from the cover of a Nina Simone album.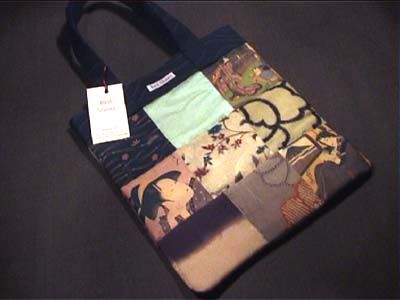 Mostly made of vintage kimono silk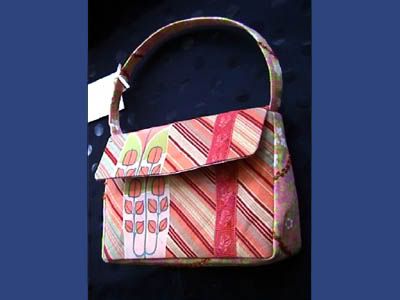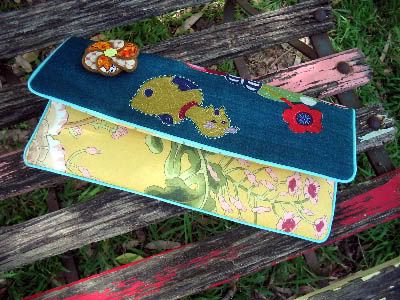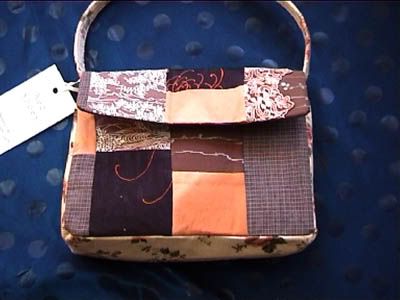 More vintage kimono silk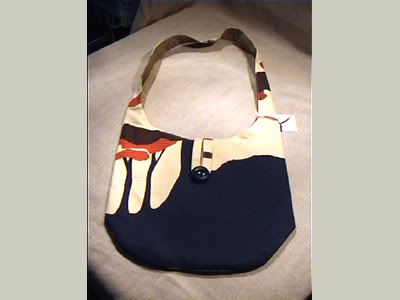 A dress fabric shop near me has a few bolts of late 70s curtain fabric, I'm pretty sure nobody else is interested in it - but I'm still not going to tell you the name of the shop.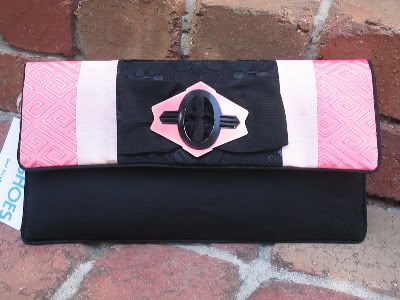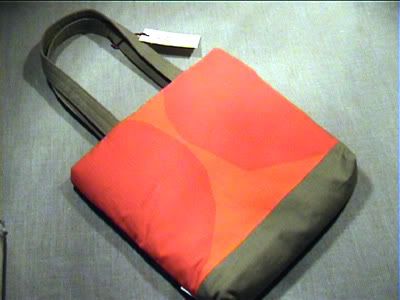 Marimekko - does anyone else care? Or just me?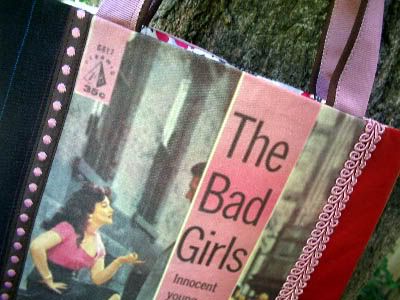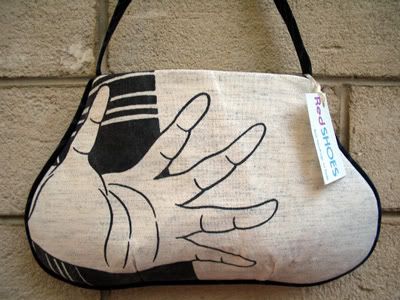 This is part of one of those heavy linen curtains you see hanging over the doorway in Japanese restaurants.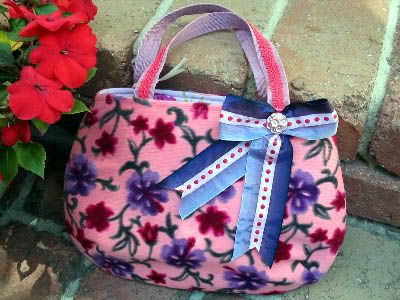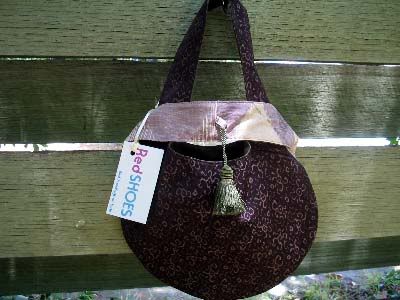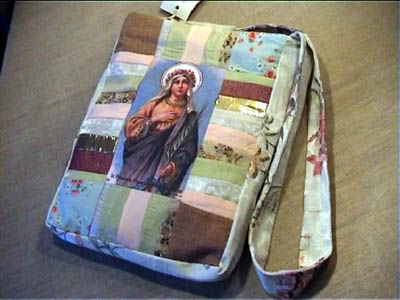 I made a batch of ten of these each featuring a different holy card saint picture. About half were sold to ironic customers, half to nonironic customers. I wouldn't have it any other way. This one, I think, is St Filomena. I kept one, mine features a laddie called St. Dominic Savio. He is overwhelmingly holy. People still comment on it.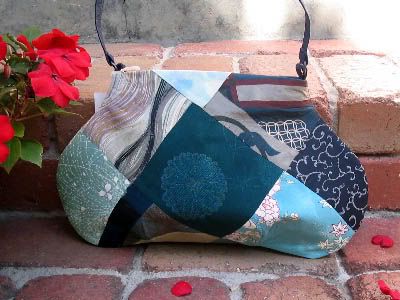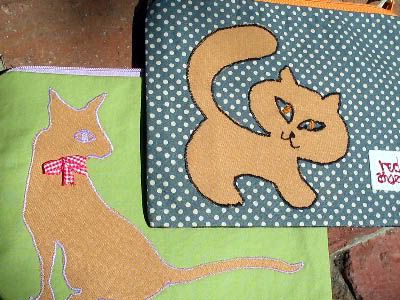 How many cat themed bag things have I made over the last three years?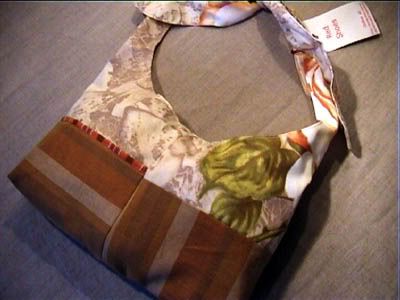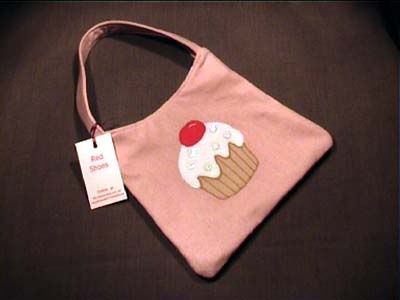 Food themed handbags are always fun to make especially when the food in question is basically sugar.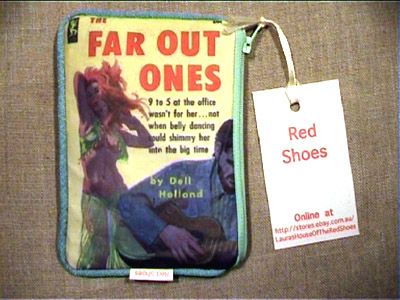 I made at least a couple hundred of these little purses, it has a transfer print of a cheesy pulp novel cover on the front.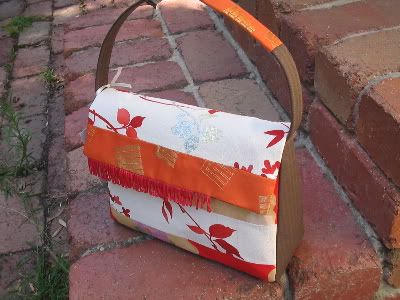 go to main page