Looking for the bit of paper that says when my postgraduate candidature is due to expire (just to give myself a fright, not because I needed it for anything) I stumbled on a
veritable treasure trove
, wedged down the bottom of the messiest bookcase: a folder crammed full of
tragic, nerdy certificates
, most dating back fifteen to twenty years.
Thank you, God!
Here's one - by no means the nerdiest: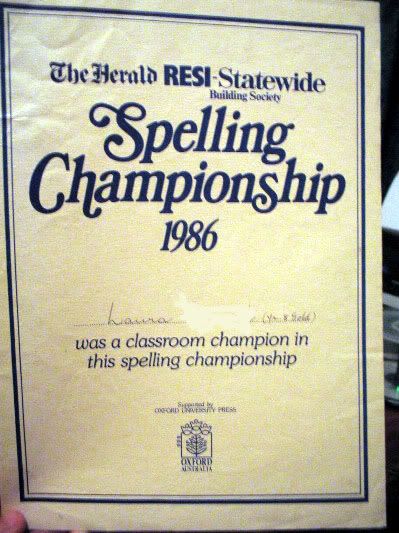 "Classroom champion" = fricking hopeless. This means I only managed to outspell the thirty or so kiddles in my grade. The word I bombed on? "Detergent" - loser here spelled it d-e-r-e-t-g-e-n-t.
Heaps more where this one came from.