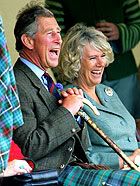 If you can manage it, set aside a moment today to
feel sorry for Andrew Motion
. As set down in the Poet Laureate's PD, Motion faces the unenviable challenge of producing a straightfaced poem in celebration of the impending
wedding
.
The central thing about the PL gig is that the poet is not allowed to make fun of the royal family (which might explain why the salary is 500 bottles of sherry a year, plus a little bit of money.) But once all the godawful aspects of this family soap opera are ruled out, there's only enough material left over for haiku.
Whatever Sir Andrew comes up with on the day is bound to be unsatisfactory, so with my trusty copy of
The Stuffed Owl
handy, I'm going to write my own, and post it here on the big day (April 8). You write one, too.
PS - for a good laugh/retch I highly recommend the Queen's
website
which is full of fascinating tidbits such as how much it costs to keep the Windsors supplied with solid gold nose hair clippers, jobs going for slaveys lackeys and toadys, and you can even send an email to Her Maj, which she will not read.