More repostings today. I was going to apologise but then I thought, no.
"
Cardinal Biggles! Fetch.....THE SOFT CUSHIONS!!!
", originally screened May 14, 2005.
* * *
We made our
beautiful floor cushions
yesterday, hurray! and they turned out so well that in their honour we spontaneously shifted round all the living-room furniture to accommodate them, and additionally we are now considering applying to
Channel 31
about hosting our own lifestyle program. The show would have all the usual segments about how to make bacon and pineapple cake, how to build an aircraft carrier out of MDF, how to break into your neighbour's house and paint their rumpus room purple etc, but the gimmick would be that Baz would be the host. He certainly "helped" a lot during the cushion-making enterprise.
Dorian bought some cotton padding of the kind used inside futon mattresses. As soon as the cat saw this he made a bee-line for it.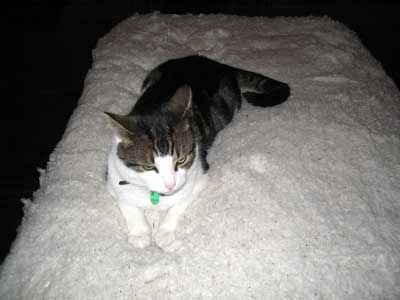 While he sat there looking mighty pleased with himself we measured out and cut up our kimono silk lengths.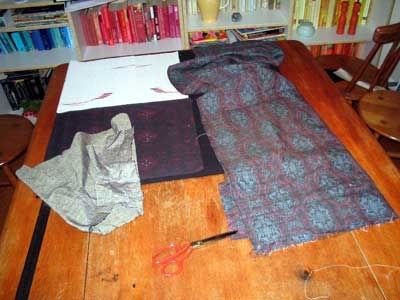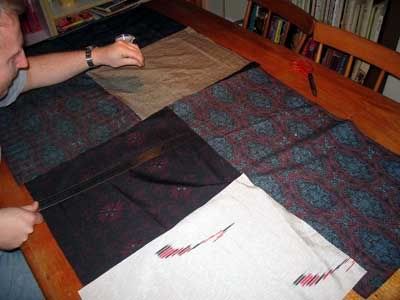 I sewed up the seams and Dorian pressed them flat. Baz meanwhile worked on making sure the cotton padding was evenly kneaded.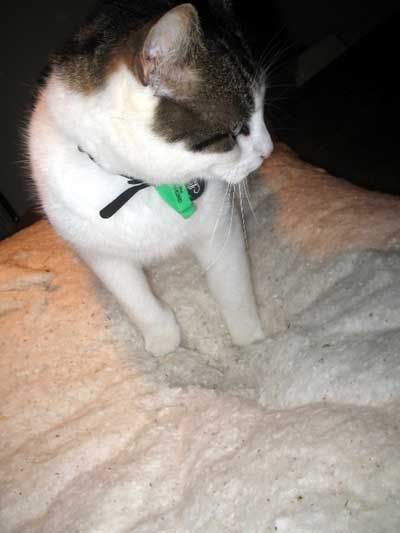 Then we put the covers onto the padding, which made the cat a bit angry.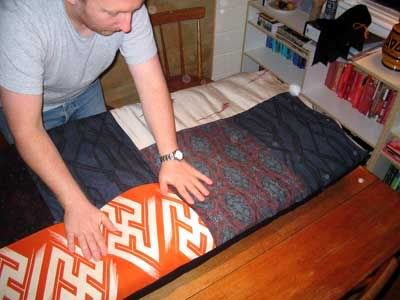 But he's a clever Baz, and before too long he understood why we were putting the cover around the cotton fluff.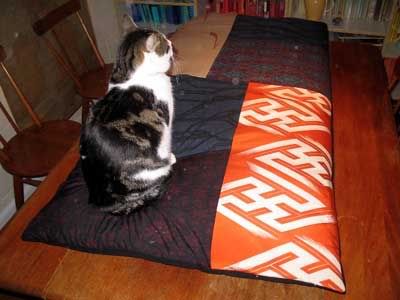 Next we vacuumed up all the bits of white cotton fluff that had transferred to the outside of the cushions. Once again, Basil assisted to the best of his ability.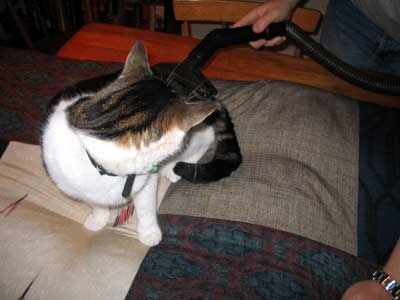 Then I stitched the open end closed and voila!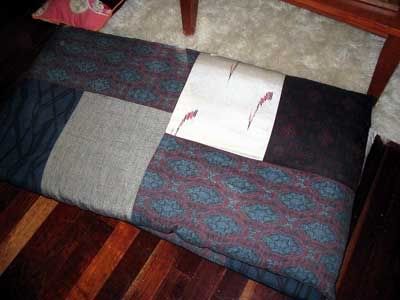 And after installation in spontaneously rearranged loungeroom....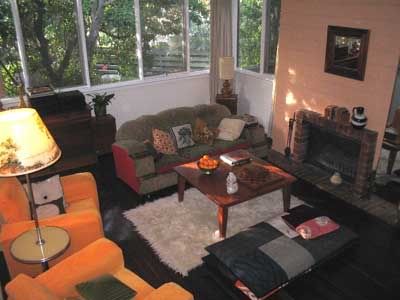 * * *
Here endeth the repost. And for the record I will state that eighteen months ago those two cushions were cut in half and restitched to make four smaller square ones, and about a year after that one cat pooed himself on one cushion, and few months after that a different cat was sick all over another, and then I stuffed them bodily into the washing machine (the cushions not the explosive cats) and the colours ran. Such is life.