I never usually go to university on Fridays - my position is part-time, and I like to try to keep a physical separation between teaching work and thesis work - but today I'm really slacking off. My week was a bit mental and I didn't sleep well last night because there was all this wind howling away outside and I felt worried about the fruit trees and the maple, not to mention the almost-completed chookhouse (which looks a bit like a miniature KFC -- I hope the chookies don't notice.) The moon kept me awake the night before, and the night before that I had three hours' sleep wedged in between diligently burning a candle at both ends. This sort of life is not good for a person as evidenced by the fact that the day before yesterday I bought two more copies of Mansfield Park on ebay bringing the total to 11. Anyway it's nice to just sit around for a bit. This morning I did a drawing of a person wearing a rabbit costume and then played with the cats.
In a minute I'll put this computer away and go paint the toilet walls.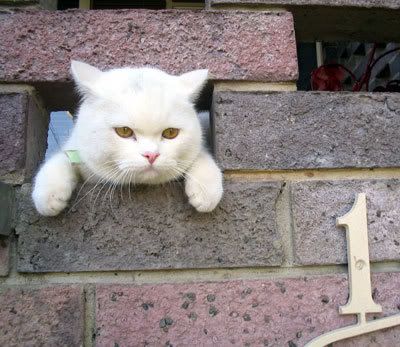 Dorian thinks Pudd looks like the
O RLY?
owl. I reckon he's a dead ringer for the white cat in
rathergood cat videos.