....and look what happened. Went all floppy.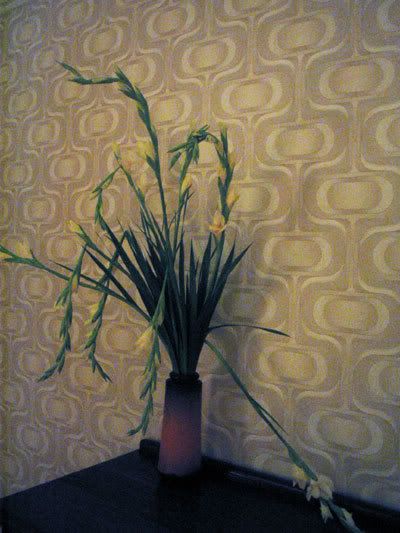 Few things are worse than a floppy gladdy.
Baz has a friend staying for the weekend who he is being quite mean to. (We took the friend down to the local shops to buy him some food earlier on, and as we passed them a little boy said to his mother "Hmm, I don't think I recognise that dog." This is the best suburb. People are always saying stuff like that. Plus, even though it's in zone 2, it has
lanes between the houses
. And the streets have names like "Bonzer St.") The poor dog just wants to peaceably and companionably share the couch, but the cat has screwed up his normally placid face into an expression which is like, well, a cat's bum. I think the cat looks more like an animal when he's in the company of other animals. Normally he doesn't look like an animal to me. When I see him in a photograph I'm sometimes surprised that he's so much smaller than I remember.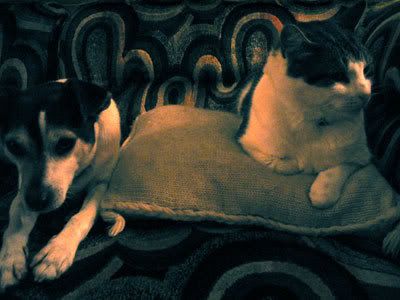 Future employers, please note that it's 11.07pm on a Friday night. I do preoccupy myself with other subjects occasionally ya know.
Pirate ship doors, for instance. Oh yes! there are
two
now: one is going on the living room and one on the bedroom. Sailing off in opposite directions, to insinuate their filthy conquistatorial business practices into half of the points of the compass and corners of the globe. We might manage to get them into their places tomorrow. It almost happened on Saturday, but I'm pretty sure I accidentally bogged up the screw holes with pink builder's compound since then, so perhaps we'll have to start again.
Another thing I sometimes think about is why can't you buy a dressmaking pattern for a duffle coat? I looked in all the pattern books but nobody is making one at the moment, not for proper duffle coats, with a square yoke, patch pockets and toggles. I am most seriously displeased because I have some grey boiled wool and it's very, very cold in the mornings not to mention brutally
foggy
.
This is the bookplate in a book I bought off Ebay: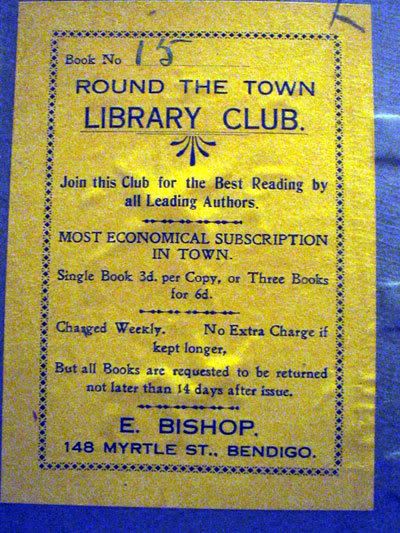 I got it from someone living in Bendigo so I guess it's been there all along. Nothing in particular against Bendigo, but how would you like to be stuck there for 108 years? (If odours are any guide, I suspect it may have made one or two brief excursions to
Smoko
.) I tried unsuccessfully to find out what is at 148 Myrtle Street now. Does anyone know by any chance?
Which reminds me of another thing I wonder about (whole new avenue of blogfodder possibilities opening up before my very eyes here): why the sudden influx of Melbourne public art-related searches? Is there a study unit on that topic in VCE or something? I can't tell if they're coming from schools, but they are consistently looking for the same six or seven sculptures by name, which must mean they're working off a list of some type.
Wow, quite a lot of homework for youse. To recap:
Duffle coat pattern.
Myrtle Street, Benders
school projects on public art?