Just realised: I'm on leave! I had some left over and it appears if you don't take it before the end of your contract, the loading vanishes. Seems a bit strange, but it's what I'm told. And so I'm on holiday, but not.
So I'd better procrastinate a little.
House stuff is proceeding so very very slowly -- but it is proceeding. What I wonder is if we're managing to fix things quicker than the rate at which other things are deteriorating. When I look around I feel like Fanny Price's mother, who 'spent her days in a kind of slow bustle.' The weekend before last I finally got around to making the blind for the kitchen window. I ordered the fabric (from Marimekko) before we even moved in and I have been putting off cutting it because it was a bit on the expensive side. We have been gradually getting wooden venetian blinds for the windows as well. So six months ago when we bought the house the kitchen was like this (the angle is different, but you get the idea):
and now it's like this: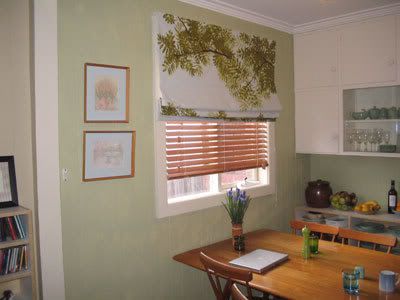 If you're considering making Roman blinds for your own house, I have some advice. (From here onwards this is mostly addressed to Googlers rather than people who come here regularly for Bazlotto etc.) The instructions on
this website
are clear and excellent and they produce a very sturdy and nicely finished blind: I recommend them without reservation. But actually making up the blind was not as simple as I thought it was going to be. I was three-quarters of the way there when the dowel sewn into the bottom edge snapped because I wasn't supporting the weight of the fabric when I pushed the blind through the sewing machine. This actually turned out to be very easy to fix (as I had a nice man here who went straight off to the hardware shop and bought me another bit of dowel) but just having it happen sent me into an insanely disproportionate frenzy of rage, I was that wound up by the torturous fiddliness of it all. Anyway, the two hard parts that you want to be very, very careful with are, firstly, cutting your front and backing fabrics so that they are perfectly square and exactly the same size, and secondly, stitching the rod pockets to the back through both layers of fabric without introducing puckers and pulls on the front. For the rod pockets part I think you should hand-baste them on before you machine-sew them down, so you can make sure they're sitting flat and level.
If you don't cut the edges at perfect 90-degree angles then the blind will end up a little bit (or a lot) skewed. Two degrees off square doesn't look like much at the corner but over a metre or so it's very noticeable. And if you're using a non-bonded fabric, make sure you iron it so the threads are flat and straight: if it's been torn off the bolt, or washed and line dried, it will not be square any more and you'll need to square it up again or else the blind will have a kink in it which will annoy you......
for the rest of your life
.
My blind that I laboured over does have a very slight kink in it, and because I tore the fabric and didn't square it up perfectly, it came out wonky and I had to re-sew the side seams again smaller. So the blind is also a little bit smaller than the window frame which it was supposed to cover precisely.
Everything we've done to the house is like that. I'm finding it easier all the time to not let the imperfections get me down, though. Australian readers of my age or older might remember the government-sponsored TV ads from the 1980s which said that we - as a nation? - shouldn't settle for near enough - one example was Michaelangelo not just painting the ceiling of the Sisitine Chapel a nice Duck Egg Blue. A bizarre campaign (have I remembered it right?): the perfectionist mentality is horribly damaging, in my experience; all it creates is paralysis.