Almost settled into our new house now. It's all good. I am sitting in my study where I've been all day, working. It was a hard decision whether to wallpaper the wall which the desk faces, or the one I presently have my back to, but in the end I decided upon the latter. And now I am quite glad that I did. Behold:
Wallpaper is a right bastard to get to stick and to trim to exactly the right dimensions. There was even some swearing. But it's all fine now.
I am going on about it partly in order to prevent people coming into the house and saying "when you get around to stripping off that manky old wallpaper, this place will look pretty good." But I bet somebody still does say that.
The people who sold us the house have stopped by a couple of times. On seeing the floorboards, one remarked wistfully "Oh but that carpet wasn't very old!" (We sold the carpet, by the way.) The vertical blinds they had put up just before selling the house are now coiled up in the rubbish bin, which pleases me greatly. You would think this might have told them something about the wisdom of 'renovating' a place you're about to sell by putting in fittings that are only twenty years out of date instead of thirty-five. But no; we've since seen them installing a rubbish second-hand kitchen in another place they own, and I also saw the lady raking about amongst the unspeakably ugly sale table curtain fabrics at Lincraft.
Anyway. Basil is settling in very well in general. He has enjoyed helping us with various tasks, ones involving ladders most of all.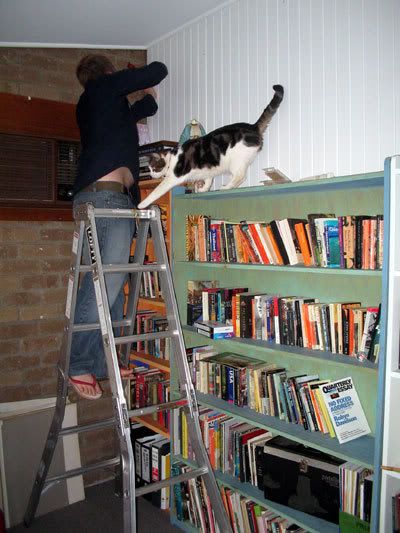 He also seems to have arrived at some form of detente with the bad neighbour cat. Initially they did a lot of this kind of standing-off in the yard: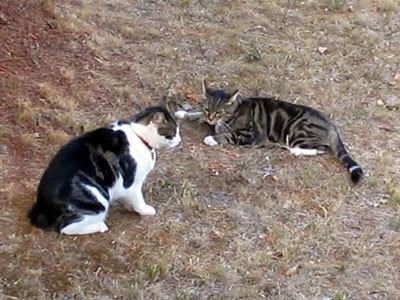 Always in that configuration, too: Baz upright and silent, bad cat crouched and yowling, bad cat staring at Baz and Baz looking at a point thirty degrees off. After a few days of this there was a full-on violent confrontation which I happened to witness, first acoustically and then with my own horrified eyes. Basically Basil beat the crap out of bad cat, who seemed to just lie down and take it. When Basil came inside shortly afterwards there was bad cat hair snagged under all his claws, which were also broken and torn from the bitchfight. I haven't seen bad cat around since, though I've heard its bell ringing.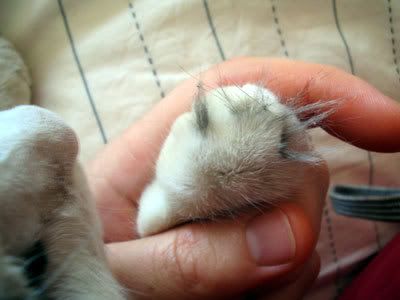 I had better get back to work. As well as writing a lecture for tomorrow I have to finish breaking in my new shoes.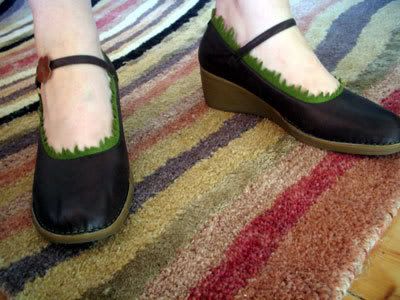 For those I am blaming Jacqueline and
her latest iteration of the Camper meme
....