I'm on leave for a week. Good! But I didn't manage to finish my thesis chapter yet. Bad.
Last week I broke my hairbrush by throwing it petulantly against a wall. A couple of days ago I tried to glue it back together again but I didn't mix the 2-pack glue properly and it didn't bond, and now the back of it is all smeary and sticky, and it smells of uncured glue. Bad! But on the way home I bought a new brush, and Basil now officially owns the broken sticky smelly one. Which is nice for him since there is nothing he likes better than broken sticks and things that smell. He's already had a nice long brushing session this afternoon. Good!!
Packing continues apace. Half the place looks like this: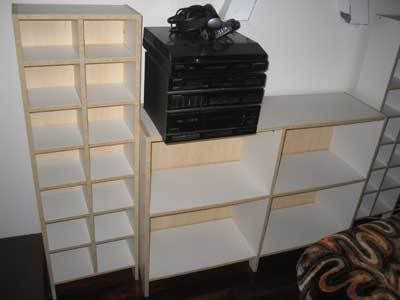 and the other half looks like this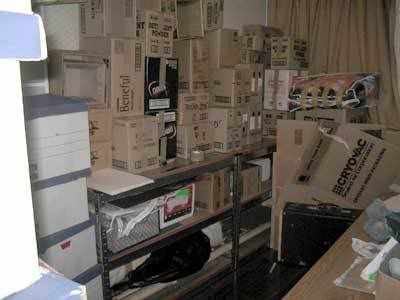 We get house tomorrow. Much signing of things followed by immediate orgy of destruction. I'm more twitchy than I can remember being over anything since the school big band contest in 1986 where I froze and couldn't play the marimba solo in "Theme from Miami Vice." Probably shouldn't have eaten those coffee beans when I got home today.
The third half of the house looks like this.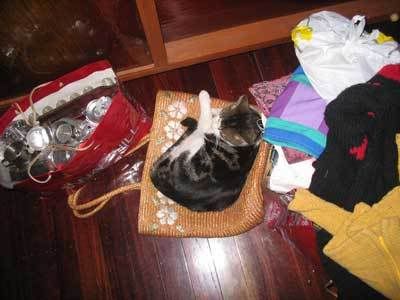 You can't drag a some old thing out of the darkness and honestly expect to be allowed to dispose of it without it first serving an intermediate period as the favourite lying-down place. Actually he's grown so fond of this old basket that I might let him keep it, I'd rather he lay here than on chairs where we sit just before going to work wearing black trousers.
Tell me, do you think it would be a ridiculously bad idea to entertain / orientate my new first-years by playing them a video called "Humanities and the Real World" which was made in the year most of them were born? It is only twelve minutes, most of the embarrassing production effects etc are near the beginning, and it makes a very good case for the value of studying humanities subjects without totally framing the benefits in terms of just the job market. The problem is that even though the central simple good reason for Humanities haven't changed the video really does look old. I can just picture myself lamely saying "even though it's a bit cheesy it makes some good points", exactly like the Training Day man in The Office. And now I've thought that, I can see the whole seminar is going to be exactly like that training day and someone will bring a guitar.
Bad thoughts. But here is something good. This was in my pigeonhole today: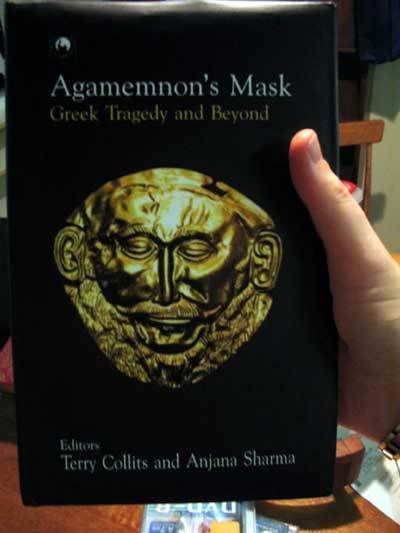 I have a chapter in here. Even though the chapter is not really anyhting much to write home about I'm pretty pleased to be included in this book which I will have to write more about in another post (when I have a bit more leisure) as it's a much more interesting item than your usual scholarly publication. Anyway, now that I've got my name on a piece contained between the same covers as one by Terry Eagleton I should be able to die happy, if I was a proper academic. But I have to confess I'd like to live a little longer yet.