As Helena points out, the citizens of the internet are The Best - not only do they know what molasses is (and that it can easily be obtained in Australian shops, contrary to my ignorance and prejudice about things related to baking) but they Care enough to help, even when asked to do so as rudely as I am afraid I did yesterday. I'm sorry about that; it's been rather hectic here recently. Cristy and Ron both emailed to say that molasses is easy to buy and good for you as well, so how about that. I went to the health food section of our local
fancy supermarket
and there it was. Molasses! Black stuff in a jar that upon investigation at home proved to taste like something my mother used to feed me when I was small. ThirdCat's suggestion about the dark sugar was also very useful as the gingerbread recipe called for something like that.
Unfortunately I singed the first batch.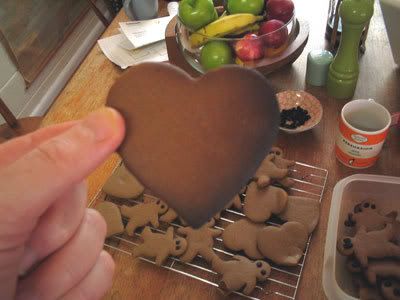 These are going to be parcelled up with shortbread (that's next) and given away to various people. This is not something we've ever done before even though I do like home-made presents more than any other kind. As I was cutting them out I realised where the urge to make gingerbread cookies came from; on Thursday I gave a seminar paper on the film of
Persuasion
...this is Mrs Clay about to make moo cow eyes at the vain and foolish Sir Walter Elliot.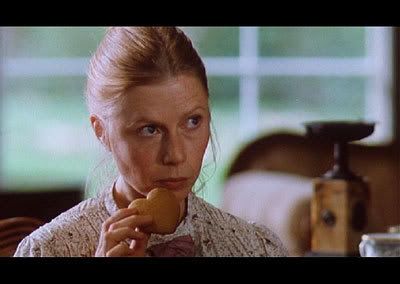 The mind is stronger than we are and it always gets its own way. Try as one might to be clever and interesting and thoughtful about realism and heritage cinema, some tiny barely audible but insistent inner voice is muttering 'Oh. Cookies. Me like Cookies.'
I don't quite know what to do with the burned ones. I've just eaten three or four charred amputee gingerbread Captains of Nelson's fleet and they didn't taste too bad, but, still, burned biscuits....