It is written
: you can't do this meme unless you're procrastinating from something. (
See
prior
memers
, and no doubt subsequent ones as well.) Luckily that applies to the entire blogosphere.
1. When you looked at yourself in the mirror today, what was the first thing you thought?
I thought that one day I should really clean those cat footprints off the mirror. Then I thought there's no point because they would only be instantly replaced, most likely with greater balletic force and elaboration, because the mirror would be wet from washing.
I think this every morning.
2. Favorite planet?
Saturn, because of the word 'saturnine'.
3. Who is the 4th person on your missed call list on your cell phone?
No mobile phone. Hate all kinds of phones. Don't ask me to do anything that involves speaking on the telephone, because I will shirk it most cowardly-ly.
4. What is your favorite ring tone on your phone?
Silence?
5. Do you "label" yourself?
No. When I'm introduced to somebody who wants to know what I "do", I have a hard time thinking of something to say. On the other hand, I get irrationally annoyed when people describe me as "sort of an academic" or something similarly expressive of doubt about the legitimacy of my academicism. Dudes I am on the payroll, I have an office with a New Yorker cartoon on the door, a staff card with dorky photo, my stuff is counted in the annual research surveys. IM IN UR UNI EDUCATIN UR KIDZ
6. What does your watch look like?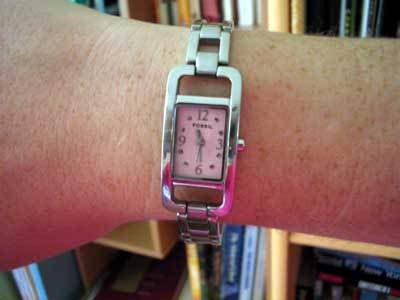 7. What were you doing at midnight last night?
Sleeping.
8. What did your last text message you received on your cell say?
It said "When did you stop beating your wife?"
9. What's a word that you say a lot?
"Um"
10. Last furry thing you touched?
The cardigan I'm wearing has a fair bit of the cat's fur on it.
11. Favorite age you have been so far?
All fine. I had a good childhood, so I'll say six.
12. Your worst enemy?
our current prime minister
13. What is your current desktop picture?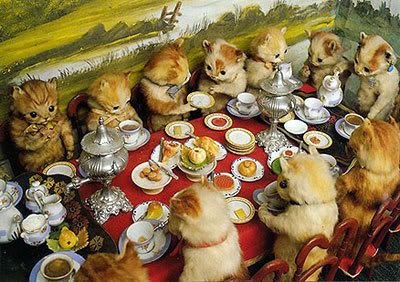 14. What was the last thing you said to someone?
something along the lines of have a good day at work darling and see you tonight.
15. If you had to choose between a million bucks or to be able to fly what would it be?
I would take the flying for the same reason Kate gave - money would be flung at anyone who could really and truly fly anyhow - plus it would be excellent to be able to fly.
16. Do you like someone?
I do.
17. The last song you listened to?
the radio is on, so it was the romantically passive-aggressive
I Will Love You All My Life
by Charlie Landsborough.
18. What time of day were you born?
I don't know. Mum?
19. What's your favorite number?
eight, because of the good jokes you can play on people involving puns on "eight" and "ate."
20. Where did you live in 1987?
Wirilda Trail, Warrnambool.
21. Are you jealous of anyone?
Basil is obsessed with this cat that lives over the road, and when I get home in the afternoon he's usually hanging out over there. Can't say I see the attraction.
22. Is anyone jealous of you?
I imagine most people who know Dorian are jealous of me.
23. Where were you when 9/11 happened?
Pretty much where I am now. I was reading and missed the whole thing.
24. Do you consider yourself kind?
Not really. I often fail when it's difficult, which is the only time it's particularly commendable.
25. If you had to get a tattoo, where would it be?
If I
had
to get one I don't think I'd have much choice in the matter. It would presumably say something like "CLASSIFIED WHITE FERTILE EXPIRY 2017" and be in my ear or something.
I quite like the idea of a forehead tattoo that says "
snosraP salohciN htiw tuo neeb I
"
26. If you could be fluent in any other language, what would it be?
Something relatively simple and rule-bound / limited? Latin?
27. Would you move for the person you loved?
Of course. What other point is there to life?
28. What's your life motto?
"I may occasionally be slightly overdressed, but I always make up for it by being immensely overeducated." The only way one can be forgiven for having such a wanky motto is if it's a total pose and demonstrably untrue, as it is for me and I think it was for Algy Moncrieff too. Oscar Wilde was right about everything, as Harold Bloom (who is right about nothing else) once observed.
29. What's your favorite town/city?
Melbourne, duh!
30. When was the last time you wrote a letter to someone on paper and mailed it?
Yesterday. It's a funny thing but people who are interested in forthcoming Jane Austen conferences seem to be reluctant to engage in email correspondence.
31. Can you change the oil on a car?
I have done it on cars with simple basic engines, but not our current car. The hard part is unscrewing the filter which has usually been screwed on very tightly. What a strange question.
32. Your first love: what is the last thing you heard about him/her?
Interpreting 'first love' a bit loosely, that his lifelong interest in herb cultivation was finding expression in naturopathy studies in Byron Bay.
33. How far back do you know about your ancestry?
Last time I talked to my father he told me a few things about his father's grandparents. That's as far back as I know anything about.
34. The last time you dressed fancy, what did you wear and why did you dress fancy?
I can't come up with a meaningful answer. I always dress about the same.
35. Have you been burned by love?
Not in any lasting way. I had a lengthy bout of sooking after being ditched by one extra caddish young man, but that's the best I can do.