I've been watching
Jericho
, an American show about relationships in a small town community in some sort of post-nuclear (sorry, post-nukyular) state of emergency. Jericho is the name of the town which I gather is meant to be in some place like South Dakota. (We did not get a new TV, instead we got this little USB thing you plug into a laptop and a bunny ears aerial. It's a real bastard to set up so I watch very little telly, which is for the best.) Anyway I don't know how I started on this
Jericho
show, I missed the first episode and a couple of subsequents, and I was under the impression it was a miniseries but wikipedia tells me there are probably going to be more than twenty episodes.
Anyway, it's total rubbish. At least, I think it probably is. Actually, I am completely bamboozled by it and just cannot decide whether it's the stupidest thing on telly this year or alternatively up to something too immensely artistically sophisticated for me to get my head around.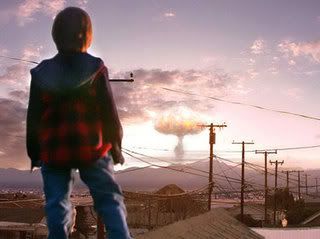 The situation is basically this: as far as the people in this little town can discern, most major urban centres in the USA have been destroyed, incinerated, obliterated in simultaneous nuclear strikes, there are no communications and it appears probable that untold millions of people have died and the country, perhaps the world, is in total collapse. (Mysteriously yet conveniently, radioactivity and ash clouds & other airborne toxic events don't seem to be an issue.) Even though they know what's happened the people of Jericho somehow manage not to commit suicide or go mad with grief or get into bed and never get out again. They go on putting one foot in front of the other. They go on, uncannily competently, with their lives. Each episode there is some medium-sized crisis for the town heroes to deal with (like get petrol to run the generators at the hospital), and deal with it they do. But meanwhile everyone appears not only to be coping but actually having a pretty good time. They pass the days and nights doing things like have teenage house parties, buying stuff at the shops, playing pool and drink at the bar, develop romantic entanglements, they brush their hair, shave, put on makeup, jewellery and clean clothes, vacuum and fluff up the cushions on the couch, drink coffee at the footpath cafe, and in tonight's episode they had a Halloween party in the town square which was decorated with streamers and tinsel and carved pumpkins. People have semi-deep conversations but they're not about how to cope or what possible future there might be for the world, but about estrangement from spouses and adulterous relationships.
I have to say that this amazing, baffling nonchalance has me jiggered and my faint hope that at some point the show will explain it to me is the only reason I'm still watching. At first I thought the people were suffering some kind of mass delusion as a result of extreme traumatic shock and continued to go about their pre-nuclear holocaust routines, shop at the grocer's, drink in the bar etc as a form of collective denial. (Or else it was a kind of soldiering on in the face of adversity type situation. Or else it was some sort of meta-commentary on comfortably numb middle-class Western myopia.) That would be a fairly reasonable narrative move for a show like this to make in its early stages, but it's been going on for so many weeks now that there's got to be only like a three per cent chance that everything which has happened so far is the setup for some incredible twist or reversal or development that is going to be laid out in some future episode. I'm slowly & reluctantly going over to the belief that it's actually the product of a colossal failure to even try to imagine what living on after a nuclear war is actually like for survivors. If so then the the show is perhaps not just stupid but evil as well. This could be what happens when historical memory evaporates and empathy is forgotten or diminished.
Anyway I seem to be committed to watching the thing now and I guess that counts as a success with Channel 10. Here's hoping they're going to reward my loyalty by proving me stupendously wrong.