Harry
wrote this
comment
recently:

LTU is - in terms of natural beauty - one of the best places to work in Melbourne and one of the best campuses in Australia. (I think the ANU comes close).
Most people who spend a bit of time at La Trobe's main campus would be hard pressed to disagree with this remark. The detail about it being
natural
beauty that's so remarkable is the normal form of LTU campus endorsement. Sometimes people will go on to specify that the grounds are lovely but the buildings are horrible. It's not true!
Too few Australians know how to value 1960s brown brick and concrete architecture - decades of widespread and baseless sneering at "mission brown" might be to blame for that - and I firmly believe that if doubters could set aside their colour-scheme prejudices they would see how extraordinary and wonderful a success the LTU campus has actually turned out to be. You can see I am besotted. The part of the year when the jacarandas flower has just ended, unfortunately, so I missed the chance to take pictures of the season of most obvious beauty, but for the next few days I'll try to compensate with some pictures of my favourite campus things and places.
Leonard French stained glass panels
The main approach to the campus fetches up at the main administration building which is raised off the ground. You get off the bus and walk underneath it and into (or around) what's effectively a quadrangle crossed with a walled garden. The main public space in the university is also a walled open area, and there are lots of lesser repetitions of free open space enclosed and protected by solid, unobtrusive buildings. It's the spatial representation of one immensely powerful idea of what a university is. So this first portal / transition place is important and that's reinforced by these four amazing stained glass panels which mark the division between the bus stop and the garden (which is unfortunately known as 'the vice-chancellor's garden', since his office overlooks it).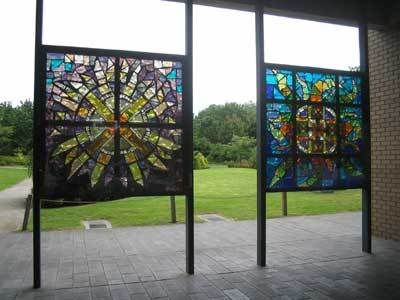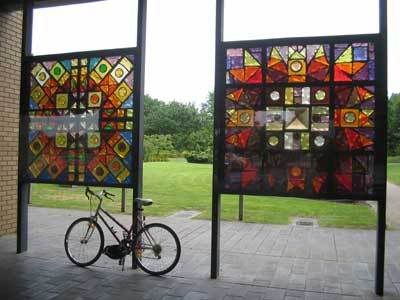 The glass is richly and delicately coloured and heavy like thick impasto oil paint but it's also bright and translucent. Intense and intricately subtle but lucid and structured. Independent fragments composed into order and harmony. The glass takes light from the atmosphere and gives it back as colour.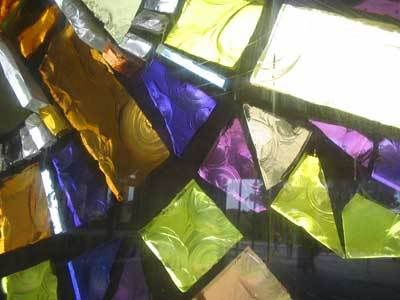 It's kind of a pity that immediately behind these beautiful objects is placed one of the most vapid pieces of sculpture imaginable: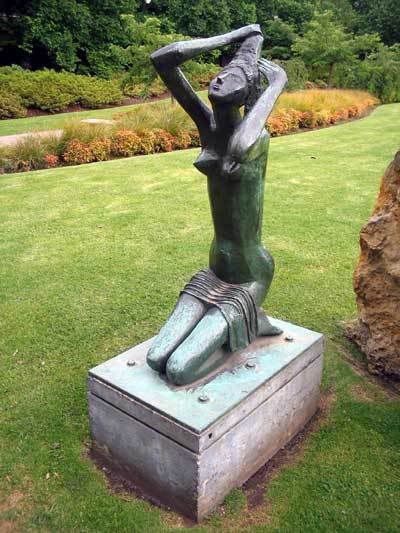 Sigh.