I've always felt that this blog has suffered from some indefinable lack, and it was just yesterday I finally realised what it is; clearly, what's missing is an illustrated tour through some of the highlights of my footwear collection. I experienced this epiphany, along with intermittent stabs of envy, while reading
Sophie's
post about
her extensive collection of Campers
. (I also have size 41 feet and I would appreciate it if she would just
back away
from the sale table.
Now
.)
In chronological order:
I've had this pair for five years and I'm afraid it shows. But they're the most comfortable pair of shoes I've ever had. I would wear them in the gym if it was allowed. Before I discovered campers which are wide across the toe joints I always had some sort of foot sore thing going on and would too often buy shoes that I liked but which did not fit, telling myself I'd get used to it or that they'd soften up, and of course that never happened. This pair of shoes cost $250 and worth every cent. But at the same time I have not paid full price for a pair of Camper shoes since.
Next: herringbone tweed with red rubbery soles. These look a bit like old mens slippers but I don't hold it against them. I got these on eBay. Bless you eBay.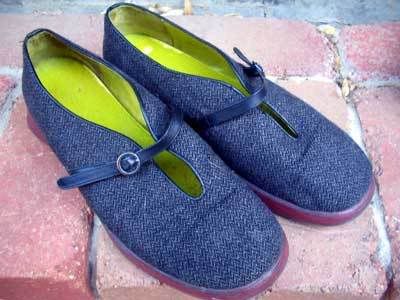 Then the purple and green sandals with a daisy having its petals plucked off. I bought these, on sale at Giallo, in an extremely bad mood. They are my least favourite pair of shoes. Heteronormativity in footwear is just a bit...dumb.
The shoes embroidered with "dog" and "cat" were bought over the internet from one of those discount shoes selling places. I love these and wear them at least twice a week in the colder months.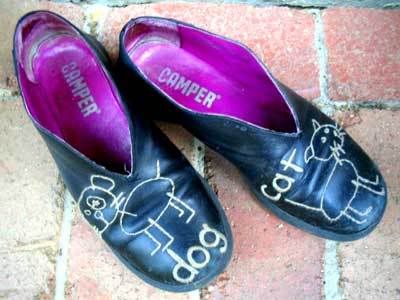 The peacock blue pumps with red soles and heels represent another glorious eBay moment. Oh yes victory was mine.
Last but not least: mid-calf boots bought in Greenwich Village Camper store two years ago. Mmmm. Boots.