Thanks pretty largely to seeing
Children of Men
last week I have a deluge of new understandings about how the different bits of my thesis fit together. This is in spite of not having actually read the P D James novel the film is based on. Tomorrow I really need to find a bookshop with a copy.
One of the ideas in play in the thesis is that a key difference between literature and film, one that discussions about adaptation studies don't take into account, is that language narratives don't need real people's bodies to represent, but movie narratives do. Another idea in play is that the richest metaphor for understanding the type of creative relation to the past exhibited by adaptation derives from mammalian reproduction. I'm now seeing how I can augment and extend these ideas so that they supply the basic logic, and symbolic colouring, of the whole thing.
It's almost perfect timing, since after the last essays are marked, the thesis is again my sole concern. I have three other smallish projects that I need to do but I hope to get most of the work out of the way this week and to basically do the rest in as half-arsed a manner as I can manage.
Today I am giving heartfelt thanks to whatever it is that's triggered a burst of thesis-enthusiasm just now, against the odds and my rather fearful expectations. How different familiar things can look when you suddenly see them in a different light.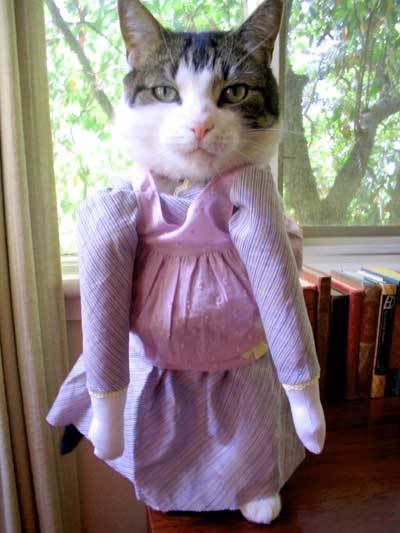 Lady costume inspired by
cute overload
's 'front-paw illusion' post.