No way known can I catch up on all the things that have happened since (oh dear) August 22nd: I've been very very busy with school stuff, I've got a loathsome head cold, and I've been to Sydney for a few days...that'll probably have to do. Dorian bought a new macbook today, and he's also got a new job. I'm a bit jealous so I decided to redecorate my blog, do you like it? Too bad if you don't. My last trip to Mildura (last Tuesday) was quite entertaining in an exhausting sort of way - in the morning the airport was brim full of Exclusive Brethren, an interesting sight if you're fascinated by 'look at me' modesty (and who isn't?), and then on the way home I sat next to a young country man who was flying for the first time ever and headed for London. We had an interesting talk about
The Lord of the Rings
, although he didn't believe I'd actually read it, if asking me twice whether I
really
had was any indication. I wonder how he's getting on in Earls Court or wherever he ended up.
Perhaps you'd like to see the frontispiece to the first illustrated English edition of
Pride and Prejudice
?


Thought so.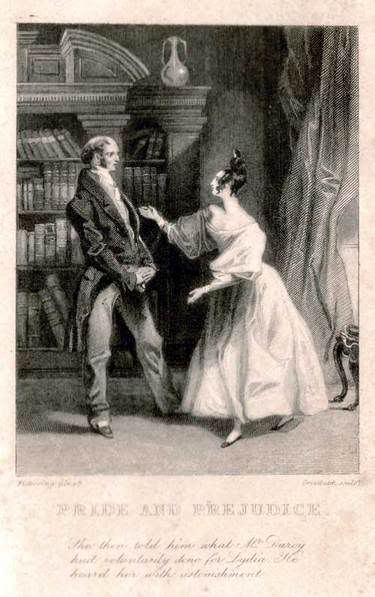 Weird huh. That's Elizabeth telling Mr Bennet about Darcy organising Wickham and Lydia's wedding.