Prefiguring the recent spate of celebrity deaths was our television's demise - last week it just gave up the ghost.
RIP Telly

1978 - 2006

Well done good and faithful servant.
Tonight I'm going to sneak out after dark and add it to the pile of crap languishing on the nature strip a few houses down.
Three episodes is how far behind I am with
The Bill
: and it's rather an extraordinary feeling, because quite soon I will be so far behind that it will no longer be possible (nor, presumably, tempting) to catch up. Alll those years and this is the way our codependency ends. Not with a bang but a whimper.


We may not get another one. It is all undecided. I am looking at the living room and thinking how nice it would be to put the piano there instead of in one of the messy kid-sized bedrooms we euphemistically call our studies. And since Dorian recently got a new laptop with quite a big screen, I think we should investigate whatever that gadget is that you plug into a computer to make it play television. Does anyone have any advice about that?

I had a little dummy spit in the morning and decided not to do any work work today. In the morning I went to the local convent garage sale, which was disappointing in the extreme, and in a few minutes I'm going to turn off the computer and make a couple of bags. Here are some bits.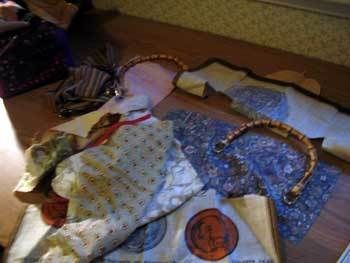 The japanese maple outside my study window has gone beserk with Spring.