I bought some books, Hoo-rah. Thought you might like to hear about them.
Since reading this
fantastic post of Duck's
about how a book is put into hard bindings I've paid a lot more attention to book bindings and especially headbands. That probably contributed purchase no #1, definitely an impulse buy: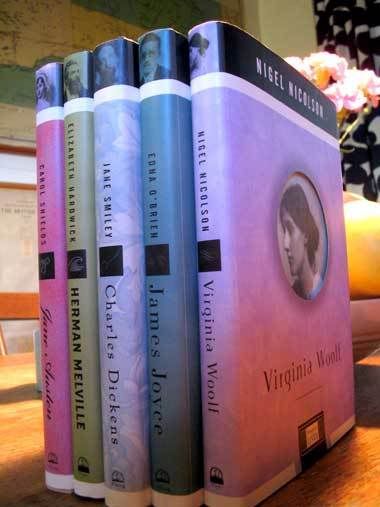 the bookshop at uni has a sale at the moment and these biographies - Penguin Lives is the series title - were $8 each. So yesterday I bought the Jane Austen, by Carol Shields, and the Herman Melville, by Elizabeth Hardwick. And last night I read most of the first and about half of the second, and both were so very good that today I went back for more, and got Virginia Woolf (Nigel Nicholson) Charles Dickens (Jane Smiley) and James Joyce (Edna O'Brien).

A lot of effort and calculation has gone into designing these books in order to appeal to the baser book fetishist / "collect the set" instincts in us all - the page edges are ragged, not cut clean (what is that called, A. Duck?) and under the dustjackets the books have co-ordinating but not identical decorated boards.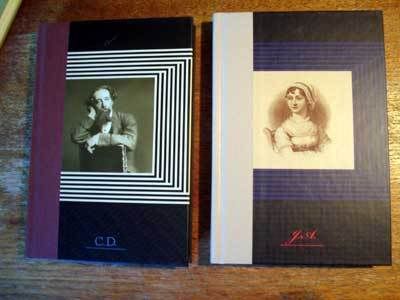 I don't know whether I like this sort of thing or not. The books are really nice to handle and easy to read. But I can't help suspecting that the whole exercise might've substantially originated with a collaboration between Penguin's marketing and design wings. George Eliot, for example, probably was never a candidate for biographing in this series...

(And while we're on the subject of writers' portraits, I've been having fun with the new Author Gallery feature at LibraryThing - it displays public domain pictures of the authors in your catalogue. Jane Austen looks good next to Balzac. Thomas Love Peacock physically resembles his books. Most of those people I haven't seen images of before and some are pretty surprising.)

Purchase #2 has been settling into its new surrounds in my office for a while now but the vendor said "mention it on your blog some time" so here it is: the entire 20 volume run of Scrutiny.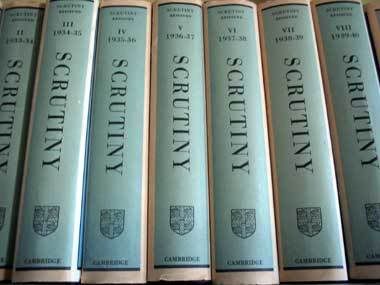 I know this will come in useful someday. I have already managed to clear several bulging folders of photocopied articles now rendered redundant by having the originals on hand. And last week I was able to look up what is actually on the pages cited in a mock footnote toward the end of Possession, which in theory I could have done any time before simply by walking over to the library, but in practice I did not.

Purchase #3 is....another Mansfield Park. I have eight copies now. This one came from America via eBay.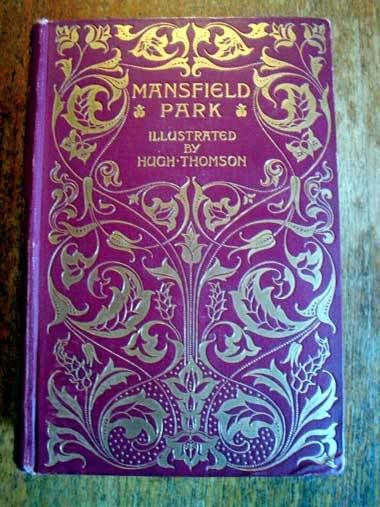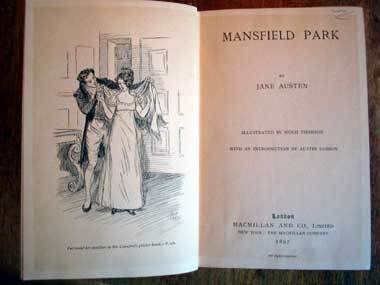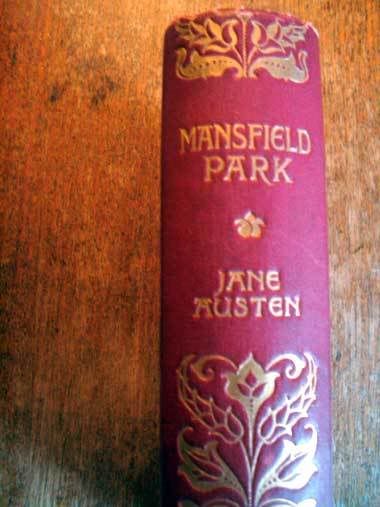 It is the first of this particular much reprinted Victorian edition, illustrated by Hugh Thomson, published by Macmillan in 1897. This book too is a bit graphically overcooked for my taste. But it's been carefully and beautifully made and has aged pretty well.