Work experience: do they have it in other countries? Google seems to suggest they do but not in the same way as Australia, where I think it is also dying out as more firms decide they don't want the insurance hassles associated with having high school kids drifting around the workplace damaging valuable equipment.
In year 11 I did two weeks work experience in the costume department of the Victoria State Opera. I had to go to Melbourne and stay at my uncle's house for the duration. I loved the place very much even though it offended my teenage puritanicalism with its expensive ways. They were making medieval dresses for the chorus of a production of
Tannhauser
, they had high waists and long trains and long trailing sleeves and used about six metres of fabric each. The fabric was a horribly expensive Swiss velvet made entirely of silk and the fabric for each dress was individually hand-dyed to match the colours in the costume designer's sketches. There were fourteen dresses. All this is part of the reason why the VSO no longer exists, of course.
The other thing the department was working on was a fundraising ball imminient at the Royal Exhibition Buildings; one of the jobs I had to do was clean and mend and press various ratty old costumes from past shows which Ladies Bountiful were going to swan about in at said ball. On the second last day I burned a hole in a nasty spotty black dress from Die Fliedermaus but after a sleepless fearful night I managed to patch it up without anyone ever discovering. Probably not coincidentally this took place at about the period in my life when I began to obsessively read and re-read Lucky Jim.

The year before that I had done work experience at the Fletcher Jones factory in Warrnambool, where I lived. Probably this is the only Work Experience report from 1988 you will see on a blog today: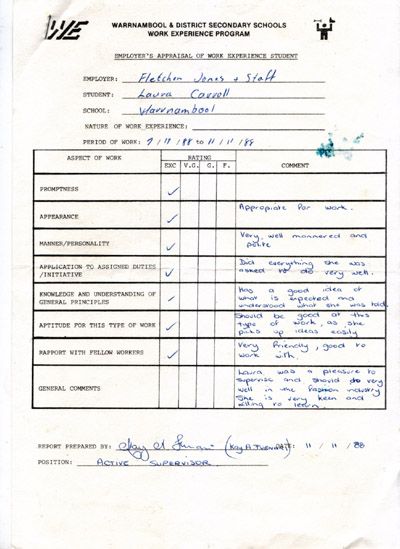 (The image links to a same but bigger version at Flickr)

Fletcher's was good. The women who worked on the sewing machines talked about what pricks the methods engineers were - these being the young guys who went around doing time & motion studies on the different steps in the processes of stitching up garments and worked out how many seconds each step ought to take and thus how productive each woman should be. (You see each worker did a different seam and then passed the garment on to the next person.) The men who cut out the pieces (using "lasers" which left behind a dust rumoured to be carcinogenic) did not stand for this sort of bullying thing and that attitude seemed to be accepted by the factory management. I was put to work on a machine stitching together backs and fronts of jade green pencil skirts which the supervisor said were called "frogs". I don't really know what factories are usually like to work in but I remember this one as being light, airy, and fastidiously clean. Every two hours music and instructions were played over the PAs and those who wished to could stand up beside their sewing machines and go through a series of exercises meant to prevent RSI and back injuries. Not many did, as it looked silly.
Most interesting to me were the tailors who made samples, corrected the patterns made by inexperienced university-graduate patternmakers, and generally supervised the whole garment construction process. They worked sitting on high stools, under hanging green-shaded lights, on a raised platform to one side of the main factory floor. There were two, they were both middle-aged Italian men, they both wore impeccably cut dark striped three-piece suits with aprons over the top, and the rest of the staff treated them with enormous deference. They checked work coming off the assembly line and told people off for doing things like allowing a piece of stray black thread to be sewed into the waistband of a yellow skirt where you could see it through the fabric. The older of these men spent a lot of time talking to me about the company and his lack of confidence in its future. He showed me a rack of sample garments for the new "youthful" line of womens' clothes called "Prophecy" that the company was about put into production. Shaking his head he pulled out a skirt that was gathered onto a deep flat waistband. "My wife could not wear this" he said, meaning that a deep waistband is only suitable for a woman with a very flat midriff and that the women likely to buy FJ's stuff are of an age where the middle is rather soft and rounded. On the second last day I was there he said he would show me how to do anything I liked, so I asked him to show me how to make a welt pocket and he did. Though I was very very careful mine came out fairly clumsy-looking but his was immaculate. It was useful to learn that even when you try hard you can still end up making a mess of something if you don't really understand what it is you're doing.

Poor old Fletcher Jones. What other factories have elaborate kitsch pleasure gardens out the front for the workers to eat their lunches in? I think they make all their stuff overseas now, like most textiles manufacturers.