My ongoing blog project - documenting Melbourne's open-air public sculpture in words and pictures. Suggestions for future episodes are more than welcome.
#26 Red Centre
Federation Square, City
Red Centre is a new sculpture in Melbourne. Fed Square launched it on June 6. It stands on the asphalt concourse connecting St Kilda Rd with Birrarung Marr, just down from Transport - opposite the rowing clubs on the other bank of the river. It's the work of
Konstantin Dimopoulos
who is probably best known in this city for the controversial
blue trees
project -
Sacred Grove
- which didn't happen last year. One of Dimopoulos's works was a finalist in this year's
Lempriere Award
, you may recall.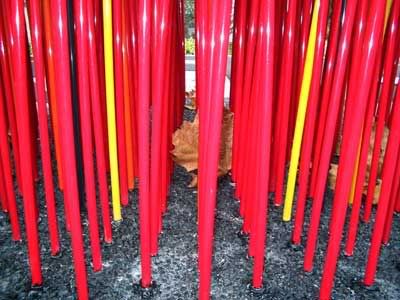 Red Centre is a sculpture that moves. It is made of about 300 partly flexible fibreglass rods, each one about 1.5cm in diameter and six or seven metres long, planted in the ground in a regular grid formation, inside a circular area about a metre in diameter. The rods, which individually have that wobbly tensile balance you only find in fibreglass and steel, are glossy and smooth and coloured red, with some very occasionally orange and yellow and slate grey. Around the circle there are uplights embedded in the ashphalt which set the sculpture glowing after dark. At rest, the sculpture is symmetrical and straight - I can't imagine how difficult it must have been to get so many long quivery rods standing perfectly even and upright - but when it's stirred by currents of wind or by human hands it ripples and clanks and shifts about.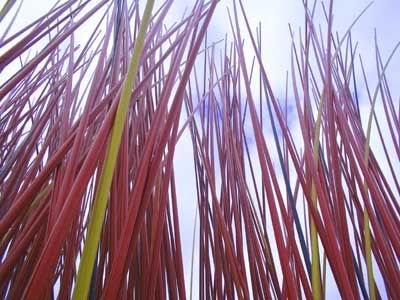 The sculpture calls to mind both a tussock of dry native grass and a column of flames or sparks - or rather, it calls up a virtual, stylised imagining of those natural forms. Its name of course refers to the central Australian landscape where both those things might be imagined to belong. That reference connects it with one of the best things about Federation Square proper, the Kimberley sandstone paving, which I never look at without delight and and wonder, and also a bit of puzzlement at what it's doing in cool silvery grey Melbourne. I feel a bit the same about Red Centre, because Yarraside is not the Outback and there is no natural connection, although if it had a different name it probably would not seem quite so incongruous. I also think the sculpture would have looked pretty good up in Federation Square against the brushed metal and stone - down in the bitumen section, near the heavy Victorian bridge and pillars, it's something of a of a sculpture unto itself.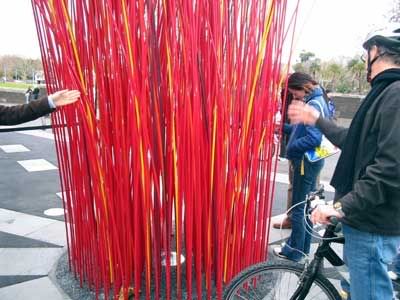 The day we visited, Red Centre was cordoned off, in accordance with the usual half-arsed way Fed Square approaches crowd control, inside a ring of those temporary barriers used to make ticketing queues. But what with one thing and another, somehow a segment of the barrier got moved aside and various people out for a Sunday meander succumbed to the quite irresistible desire to get up close to the sculpture and gently and curiously touch it.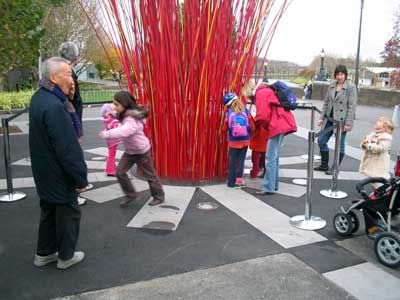 In fact two minutes standing in the vicinity will tell you two things about Red Centre. First, unlike the blue trees, it is a massive hit with Melburnians, especially children, with all that that implies for good or bad about the post-
Vault
absence of
challenging public art
in the City of Melbourne. Second, it is quite impossible to credit that anybody involved with the project gave even five seconds' thought to whether the sculpture is tough enough to stand up to the physical wear it will get at this location.
I will be surprised if it lasts a year.