The lightbulb in the lamp in my study blew and all I had to replace it with was a hundred-watt mushroom reflector globe which wastes a lot of energy in the form of heat.
Basil has taken to sleeping under it with his head on the radio. Here he is listening to
Counterpoint
. The thing he's lying on is the padded sleeve for my laptop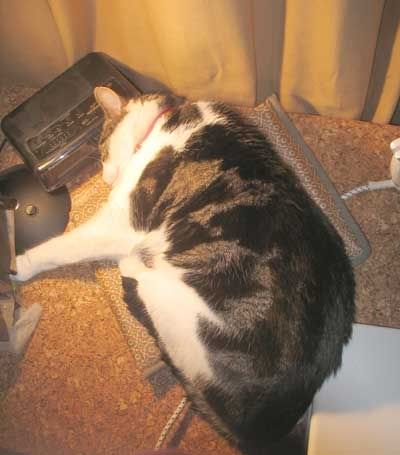 I re-arranged the furniture in here this afternoon and managed to shove in a couple more little bookcases ($15 and $20 each, from the reject shop) so things are much tidier and more orderly. My table also now faces the window so Baz and I can look out at the back yard and see when that bastard Bobster puts his ugly face over the fence.
On Thursday night I went to the movies. I saw
Click
, which is about a man who gets a magic universal remote control that allows him to do DVD-style remote control functions on his life - skip back and forth, mute, fast-forward and so on. He is given it, with a warning to use it carefully, by a mysterious person in a strange workshop. At the beginning the hero is a stressed-out young man working too hard, for a perverse and wanton employer, to spare time to do things with his wife and children and elderly parents, and while he thinks he can use the controller to regain control over his life, of course the controller begins to control him and he finds himself skipping forward through his life, years and decades at each step, each time discovering his career has advanced and some new disaster has happened in the part of his life he skipped over - marriage breakdown, fatness, father's death and so forth. He manages to be present at his son's wedding but he suffers a heart attack and is put in hospital, where the son announces that he's postponed his honeymoon in order to take care of the family business. The hero, recognising that his son is about to follow in his own footsteps, uses up his last strength telling his son to take the trip. Just then the mysterious man, who's been popping up every now and then, reappears and announces himself as the angel of death, and the hero dies.
But then he wakes up! It was all a dream! He goes home and is right back where he started except now he knows he's been given a second chance to live his life properly. Which, being Adam Sandler, we know absolutely he will do.
Adam Sandler, and the Adam Sandler Vehicle, are a bit like Jerry Lewis, as described by Gilbert Adair: (but not quite as much like Jerry Lewis as I suspect Sandler wishes) in that the whole thing is a sort of litmus test for how well you understand the Movies. You don't have to like him yourself, but you do have to understand what he is about and what he is for and recognise that what he does can very plausibly indeed be understood as Art. The vulgarity, grossness, anti-intellectualism, aggression, snideness, social conservatism, and assembly-line formularity of his films is easy enough to despise but unless you can see how the reiteration of these things over and over in the cinematic setting can transfigure them, completely, you don't fully grasp what movies are all about.
Click
is ripped off from
It's a Wonderful Life
, but it is difficult (though tempting) to imagine the dignified depressive James Stewart using his extratemporal powers to fart into Lionel Barrymore's face, as Sandler does to David Hasselhoff. Sandler is all about poorly repressed infantile rage and the costs exacted on the "average" white American male by the difficult transition to manhood . Sandler movies tend to be much, much better in the first half, where he's wailing and ranting and throwing hockey sticks or pissing in the street, than in the second, where he is domesticated and civilised by a sexy, motherly woman and/or a small, cute child.
Click
follows this scheme and additionally is split in half generically: the first part is comic and the second is a sentimental melodrama.
The movie looks to me like the fruit of this powerful player's ambition to consolidate his position as king of the fratboy movie and move into a bigger arena, bringing his maturing audience with him. (See also
Spanglish
.) The other stars of the movie are Hasselhoff, Henry Winkler and Christopher Walken. (Kate Beckinsale is the wife/mother, but she has no presence when she can't give full play to her natural bitchiness, so I don't count her.) This is a very interesting collection of actors: they are all hams, mugs, novelty performers, but star hams, first-class novelty acts, with big reputations and resumes. It's a different generation and order to the people you usually see in a Sandler comedy - Steve Buscemi, Brendan Fraser et al - those guys are like the Sandler troupe but the cast of this movie is an attempt to make a statement about a particular Hollywood tradition and Adam Sandler's position as its inheritor and consolidator.
Hovering over the whole film is a strange, invasive puritanism which I think is also a new strain in the Sandler repertoire. Its gimmick is a remote control which manipulates the temporality of a person's life like a DVD player. Wouldn't you think that he'd use it to rob a bank? Or play the stock market? Or shaft some scumbag enemy? Or bring someone back from the dead, or revisit some powerful memory? Or do some kind of perverse and forbidden sex thing, instead of just slow-motioning a jogger lady's bouncing boobs or speeding up boring marital foreplay? Not a hint of any of this. It is all about skipping forward over hard or boring or complicated tasks and duties - family dinner, fighting with the wife, working all night for a job deadline. In other words, the remote control is evil, it saps your moral strength and shortens your life because it
makes you lazy
. Alongside this frowning upon shortcomings in the work ethic and failure to maintain bodily fitness by working out is a bizarre little line in dissing junk food. The worst thing you can do in this movie is let yourself get fat. "Somebody smells like stale old French Fries" says Walken the death angel when Sandler first walks into his workshop. "Junk food shortens your life." Seconds earlier Sandler was shown cramming fries into his mouth while driving round the streets at night. Other foods eaten in the movie and called out as wicked are Twinkies, Yodels (I only have a very faint idea of what these are - some kind of American cake in a bag), big bags of potato chips, bottles of fizzy drink, and a cup of ice cream with sprinkly things on top, which is being eaten, while three adults look on disapprovingly, by a five year old boy who has just participated in a swimming carnival.
Sinfulness in modern America.
PS. Study after furniture moving: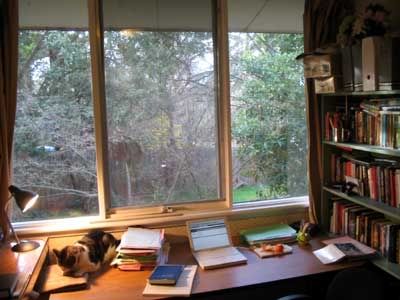 I didn't have the heart to disturb the sunbed arrangement.