Edited to add: link to the twin of this post at Ampersand Duck....crikey it's like Rashomon or something....also to insert nsf vegetarians food photography alert)
On Saturday we drove to Sydney for a few days visiting relatives. It's a looong way, especially if you a) go via Canberra and stop there to visit another set of family, and b) stop at every awful tourist attraction all eight hundred and seventy-odd kilometres of the Hume Highway have to offer.
But what's a road trip without awful tourist attractions?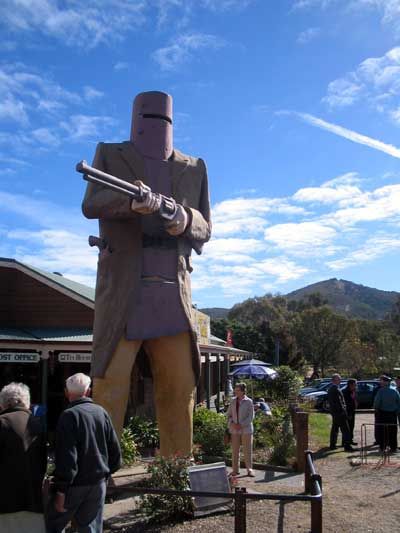 Massive Ned Kelly at Glenrowan. Glenrowan has got to be the worst town in Australia. Everything there is Ned Kelly! It's mink-blowing! There are buses disgorging tour groups, men with huge beards selling souvenirs, animatronic recreations of Ned Kelly's Last Stand, signs forbidding photography, tea-shops, pubs, historical sites, you name it, Glenrowan has it. The next day in Sydney we were shown the house at Bronte Beach which Heath Ledger only managed to occupy for ten days before the papparazzi's attentions drove him back to New York; I think he ought to have just moved direct to Glenrowan.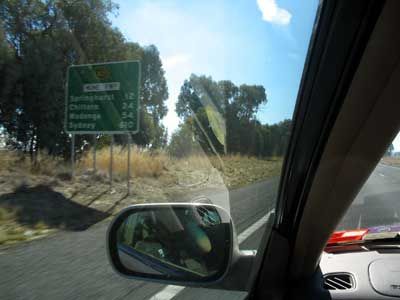 Bit of Road: I was bored, you have to be bored too.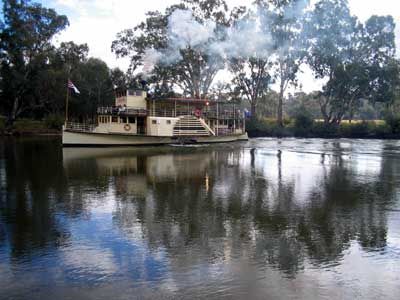 All Teh Rivers Run OMG!!!!!!1! it's a Paddlesteamer on the Mighty Murray! Would you believe that while this boat did laps of a little patch of river, a camera crew videoed a man in a motorcycle jacket standing on the bank playing an acoustic guitar, while three nuns had a picnic next to the canoe club? Well, I can't force you. The ducks at Albury have no objection to eating banana. Hmmm.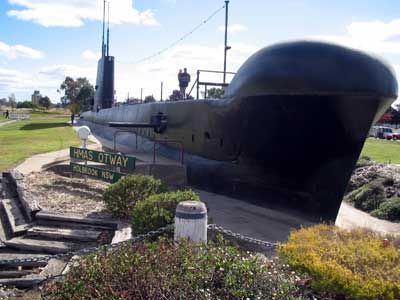 HMAS Otway at Holbrook: Holbrook is somewhere after Albury? World famous as "the town with the big submarine and absolutely no ocean or sea or other significant body of water." Also a popular rest stop among the Australian Muslim community. Indeed we encountered representatives of many different religious sects in the course of our pilgrimage journey.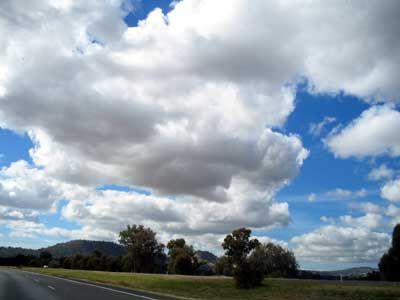 More road...Are we there yet?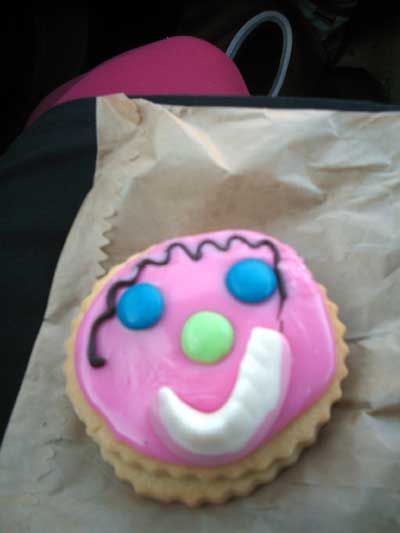 No we are not there yet....so it's time to eat the Happy Face I bought several hours previously in the Euroa Bakery. Euroa is the place to go if you want to buy special Shearers Jeans with sheep-proof reinforced crotch, or to have your wild up-country locks tamed by the team at "Arcane Hair".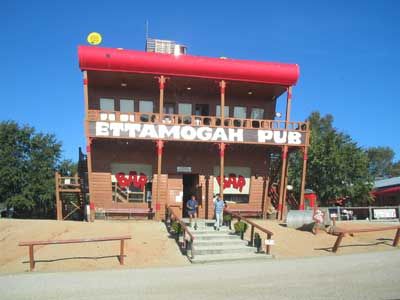 Ettamogah Pub. Sorry, Glenrowan, I see I judged you too harshly.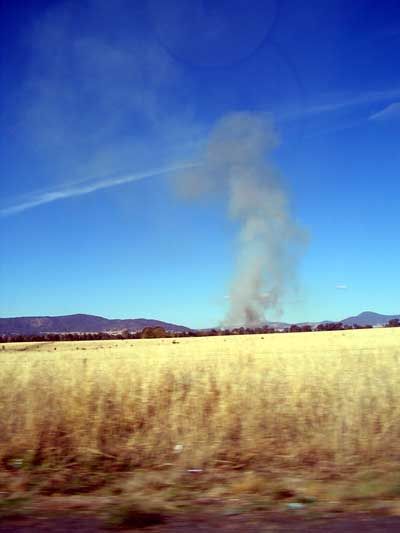 FIRE!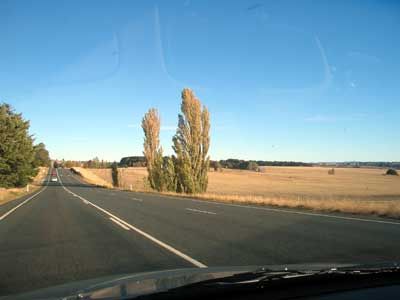 More road.




I suspected I wasn't going to be allowed to go to the one Awful Tourist Attraction I really cared about seeing, the Big Merino at Goulburn, so as a small consolation I took care to be doing a driving shift when Gundagai approached - I was going to see that Dog Sitting On The Tuckerbox, or throw a big tantrum trying.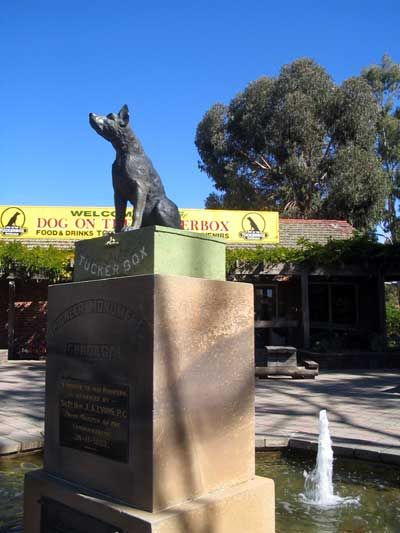 Disappointing or what....it's tiny. Smaller than lifesize, I should think. Still, the good folk of Gundagai do a good job of making the very best of it. A lovely interpretative plaque near the statue reproduces one of the many, many poems - every one of them much treasured by Australians - which commemorates this early narrative of pioneer hardship, ignominy and toilet humour.




As I was coming down Conroy's Gap,
I heard a maiden cry;
'There goes Bill the Bullocky,
He's bound for Gundagai.
A better poor old beggar
Never earnt an honest crust,
A better poor old beggar
Never drug a whip through dust.'
His team got bogged at the nine mile creek,
Bill lashed and swore and cried;
'If Nobby don't get me out of this,
I'll tattoo his bloody hide.'
But Nobby strained and broke the yoke,
And poked out the leader's eye;
Then the dog s(h)at on the Tucker Box
Nine miles from Gundagai.


They don't call Australia the Lucky Country for nothing! And I liked very much that this monument to dog poo in the dinner was unveiled in the 1930s by a Prime Minister of yesteryear.

The loitering religious types at this location were representatives of the Plymouth Brethren community.

After tiring ourselves out looking at the statue we found it absolutely necessary to purchase a pair of Tuckerburgers from the nearby Dog Sat On The Tuckerbox Cafe.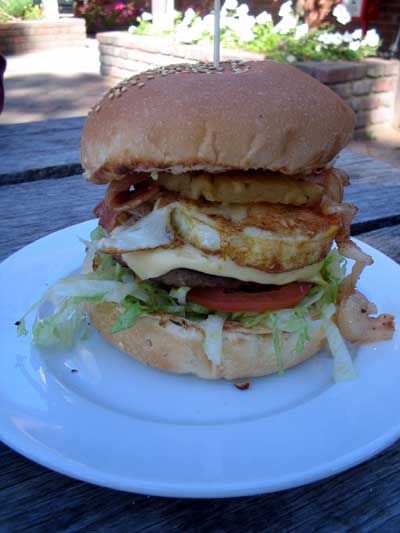 From the bottom up: bun, lettuce, tomato, beetroot, hamburger, cheese, fried egg, pineapple, bacon, tomato sauce, bun. And yes, I ate it all.


After that it got dark, so there are no more photographs.



go to main page