April is
National Poetry Month
in the United States. Lucky United States! Do we have a Poetry Month? I don't believe so. (Maybe every month is poetry month in Australia?) Anyway, American bloggers take advantage of their extreme good April fortune by posting favourite poems on their blogs. I shall emulate them, and post some of my favourite Australian poetry.
Here is a good poem for a cold dark Sunday evening with dew spreading on the ground. Imagine yourself walking across grassy plains in the dark with your breath making steam trails and the low yellow moon pushing through clouds and bare branches, walking until it gets gradually light, walking alone through the cold day until nightfall.
Christopher Brennan
is the poet. It's really a piece of a longer poem called "The Wanderer" but it is sometimes independently anthologised ; for convenience's sake it's called "No ending of the way."
The land I came thro' last was dumb with night,
a limbo of defeated glory, a ghost:
for wreck of constellations flicker'd perishing
scarce sustain'd in the mortuary air,
and on the ground and out of livid pools
wreck of old swords and crowns glimmer'd at whiles;
I seem'd at home in some old dream of kingship:
now it is clear grey day and the road is plain,
I am the wanderer of many years
who cannot tell if ever he was king
or if ever kingdoms were: I know I am
the wanderer of the ways of all the worlds,
to whom the sunshine and the rain are one
and one to stay or hasten, because he knows
no ending of the way, no home, no goal,
and phantom night and the grey day alike
withhold the heart where all my dreams and days
might faint in soft fire and delicious death:
and saying this to myself as a simple thing
I feel a peace fall in the heart of the winds
and a clear dusk settle, somewhere, far in me.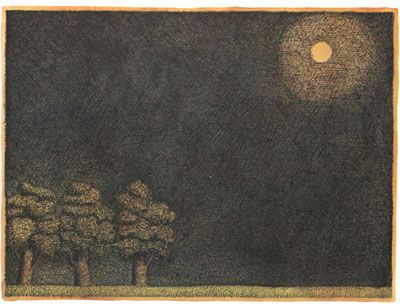 (Picture by Ron Brooks, from
The Bunyip of Berkeley's Creek
)