DATELINE 11:37pm
I'm writing a lecture about
Emma
for Tuesday morning. I have given this lecture before but I don't want to use the script again, because it's got a curse on it. So I'm re-doing the whole ten thousand words. This is the kind of behaviour that permits a person to take six years to write a phd, you just keep swapping words till one day you can't stand it any more and then you just print it out and hand it in. And then the next day you take out a subscription to
World of Warcraft
and set about raising an army of ruthless, savage, hairy slaughterers.
After the lecture I've got to finish the intro section of
Adaptation: The Very Last Word On The Subject
so as to give it to my supervisor on Friday. Our most recent conversation was upbeat and positive re: the overall vibe, but kind of weird too, because he suggested I eliminate all those sly little sentences beginning with things like "this dissertation argues" and "as I will show in chapter x", and just stop trying to argue or show anything in advance.
I'll let you know how that goes.
A few minutes ago I decided to clean up my work table in order to jumpstart a fresh wave of scholarlylearnedness. At one end of the table I stacked up all the books that I am not using just now but can't reshelve because I might need them any moment. (Aren't you glad I'm telling you this? I often think this blog is infinitely more boring than it was a year ago.
How can you stand to read it.
)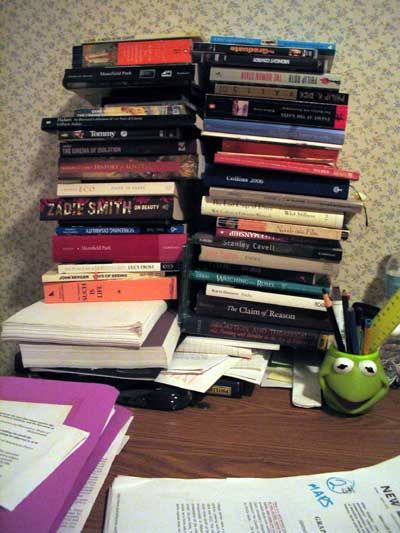 And then I took a photograph of the pile. This means it's Inane Behaviour Time & I won't be doing any more constructive work this session.
Today I squoze out about four & a half thousand words & I am feeling very Lucky Jim on Merrie England in consequence. But not as drunk. To make matters worse it seems there is something wrong with all the atom feeds in my bloglines subscriptions and I can't discover what's happening in the wide world of Blog.