Yesterday, as part of the last hurrah of Birthday Week festivities (about which more hereafter) I insisted on being taken to my favourite shop in the world, Kazari Warehouse. There I rummaged around in the kimono fabric offcut bins for about an hour exactly like a pig in a pie factory, eventually coming home with this - it's all silk:
and also this - they are small pieces of woolen kimono fabric cut up as samples for distribution among kimono merchants.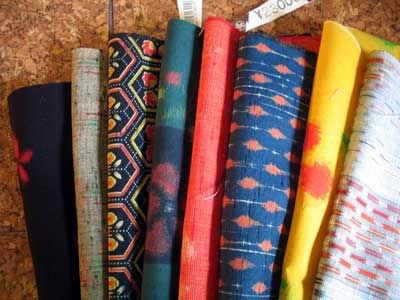 And today, I used some of it, amongst other stuff, to make a trio of bags, and guess what, they're all for sale.


(If you would like to know about terms of sale and shipping, read this. For care and maintenance instructions, click here.)

First bag is not made of kimono however: strictly speaking, it's not even a bag really, more like a pouch or case. I hope you won't hold that against it though. Its name is Kitte Mrao!




Kitte Mrao! is a 100% cotton pouch, washable, appliqued and embroidered on the front, zipping on the top, and equipped with a little loop at the side for hanging, or hanging on to. It's not large - 21cm x 14cm. The front is pale lilac with cream dots, and kitty there is apple green with orange edges. I seem to have not photographed the back, so you'll have to take my word for it that it's cream and delft blue zigzags. Don't buy this pouch if you hate cream and blue zigzags!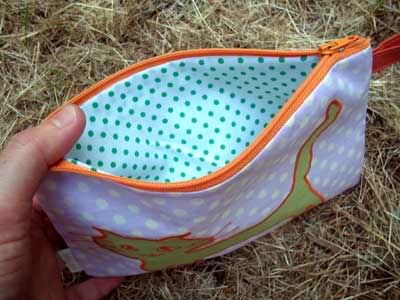 The case is lined with white voile with green polka dots, of course. What else would a kitten pouch be lined with?

To buy: Kitte Mrao! is $26 Australian, that includes postage anywhere in the world.



Second bag today is a little pochette called Frogger. I've called it Frogger because it reminds me of the graphics in primitive computer games. The front and back of this bag are made from Japanese wool crepe, and it's lined and handled and button-strapped in acid yellow Italian linen.




I *think* this is a going out at night bag. (Not that I'd know.) But it's quite small - 30cm across at the widest part, about 22cm high, & handle 38cm long - and while it has ample room for purse, keys, assorted small bits of junk, it won't hold a large book or anything like that.




The bag closes at the top with linen tabs around two X marks the spot buttons. If you don't want to bother closing the tabs, you can just tuck them into the pocket inside the bag itself.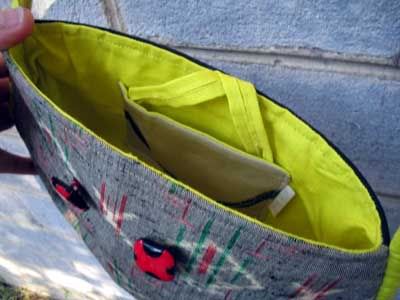 I sewed the handle by hand - it's several layers of linen tightly wrapped round a thick cotton cord. Being yellow, it will probably darken if not given some sort of preventative treatment. I can do this for you if you want. But if you're not fond of chemicals, (and Scotchgard is fairly nasty in that respect) maybe just be prepared to wash the strap part if it gets to needing it.

Oky, that sounds a bit pessimistic. Let me just say I LOVE this bag and would quite like to keep it, if it weren't for the fact that it wouldn't go with anything my daggy wardrobe.

Frogger is sold!






Third and last bag is a medium-sized tote bag, and its name is Australian Driftwood Bouquet. This bag also uses kimono, plus other nice things which I will tell you about at great length in just a moment. First here's the front and back.




The words on the front are pieces cut from an unused linen souvenir teatowel, hand appliqued to indigo denim. The side and back panels are blue and orange wool. The whole deal, like the other two bags, is interfaced enough to have body and strength but without being overly rigid. Its dimensions are 32cm high, 32 cm wide. The base is squared off. The two straps are long enough to go over your shoulder - 45cm.




The straps are red denim (it looks pink in the pix but it's red.) Over the outer surface is stitched a red and orange brocade ribbon. The bag is lined with red Marimekko cotton in the Habanera pattern - rather extravagant for lining, but I wanted red and it's all i could find that was the right size. Anyway, it does make the bag luxurious without being prissy. And that's My Favourite. Heh.

Nice big pocket inside the bag also, and it does up at the top edge with a magnetic snap. And as it appears I am not permitted to do anything out of doors without feline assistance and supervision, especially anything involving a camera --




Australian Driftwood Bouquet has a new home - not for sale any more.

I'm still sort of experimenting with the Paypal button thing. They seemed to work OK last time, with the only problem being that I thought the button was meant to stop working once someone used it to pay. But it didn't and I was a bit worried two people might accidentally pay for the same bag before I realised what was happening. So if you do buy one of these, please put a comment here so other people can see that that particular bag is already baggsed, so to speak.


go to main page