Read much Philip K. Dick? There's a bit in
Do Androids Dream of Electric Sheep?
where Deckard and another android hunter go to another City Hall in san Francisco, one that Deckard's never seen nor heard of, staffed entirely by people he's never encountered, the whole alternate-reality-right-under-the-nose setup, and he's seriously (if momentarily) shaken: if my whole world and reality exists in duplicate somewhere, how do I know the one I'm used to is for real? Is somebody spying on me through the computer and stealing my innermost thoughts?
That's a bit how I felt just now when, ego-googling on behalf of my cat who cannot reach the keyboard, nor operate the evil right-handed
mighty mouse
Dorian installed, I came upon this:
Baz-Cat Eurotrash Kitty Litter
.
How long has this been going on? The site actually has a
dress up the kittys
page. I mean I know I put a CC licence on this blog but this is beyond the pale. Isn't it.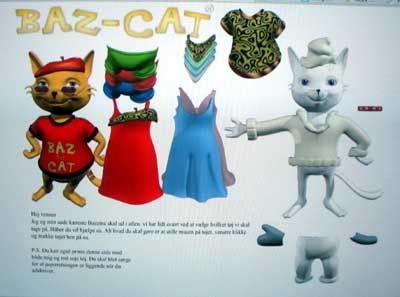 Of course the cat himself is completely oblivious to all of this, as he does not indulge in thinking, ever, he is also impervious to suspicions of being intracranially spied upon by malevolent Scandinavian domestic animal supply corporations. In many ways Basil is unlike other cats, but in this matter of not thinking he is fairly representative I understand. He does know the meaning of the word "catfood", but it is more a case of knowing what usually follows the issuing of that particular noise from my mouth than of understanding the concept of language. He reminds me of the truth of something my mother once pointed out about a predecessor cat, dear little Frankie: that the words of the Van Morrison song "Beside You" from
Astral Weeks
might have been written about her -
Oh child, to never wonder why
To never, never, never, never wonder why at all
To never, never, never, never wonder why