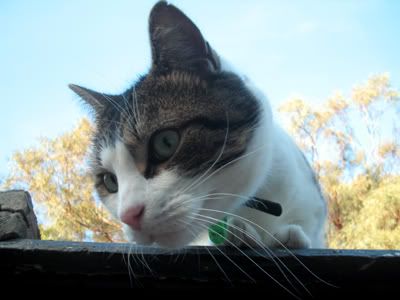 Think I'll just stay up here & post cat pixs for a coupla months. Or at least until I've driven away any readers who've been led to believe that this blog is a place where polemics are fashioned. People, all I make is handbags.
I'm still pretty wrecked about what happened yesterday. I've done the necessary to get my blog delisted off the search engines. That way, anyone who comes here will more likely be looking for me, not for some random patsy to make a pointless point about. I can't do anything about Technorati, but you've just got to hope that anyone who knows what that is & how it works also has some sort of grip on the differences between um let's say "journalism" and "commentary" on the one hand and er "life writing" on the other.
Fingers are tightly crossed that I don't lose my job or something. Unless it comes to that, I won't mention this horror again.