I went to the campus bookshop academic book sale today - or, more accurately, I went to the last dwindled pitiful dregs of the campus academic book sale today. They only had one table full left, and all books were drastically marked down to fifty per cent of the already discounted price! (see how consumer excitement makes a person start talking ad language?) Anyway, I scored.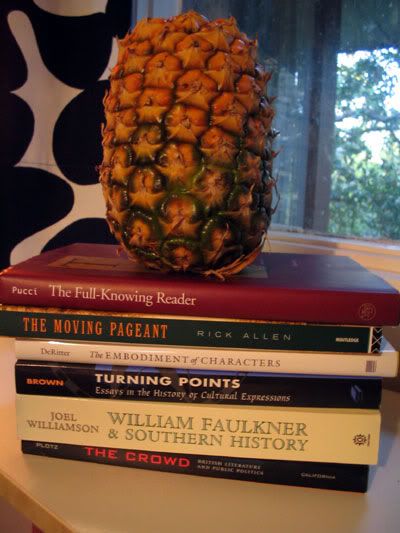 From the bottom up:
The Crowd: British Literature and Public Politics
by John Plotz. $4!
William Faulkner and Southern History
by Joel Williamson. Think I might have read parts of this before. also $4!
Turning Points: Essays in the History of Cultural Expressions
, Marshall Brown. $3.50!! which is $1.50 less than the library fine I paid for returning this exact same book two weeks late, last December.
The Embodiment of Characters: The representation of physical experience on stage and in print, 1728-1749
, Jones DeRitter. I had this on interlibrary loan in April for Mansfield Park - related reasons, so I think it will be useful again. It was $4 also.
The Moving Pageant: A Literary Source-book on London Street-Life, 1700-1914
, ed. Rick Allen. The massive sum of five dollars.
The Full-Knowing Reader: Allusion and the Power of the Reader in the Western Literary Tradition
, Joseph Pucci, also $3.50, and on the four or five pages I've read so far, going to help me very very much in my dissertation.
Not pictured:
Hurricane Hits England: An Anthology of Writing about Black Britain
, ed. Onyekachi Wambu. I bought this because of having enjoyed and been moved by
Small Island
& thought at the time that I'd like to know more about the subject. That, and it was only TWO DOLLARS, for feck's sake.
The pineapple on top I picked up on the way home, it was $5.59, so it cost more than any of these bled, sweated out, and wept over products of scholarship. Why don't this year's pineapples have the leafy spiky part on top, does anyone know? I feel a bit cheated not being able to pull out the leaves one by one.