is all I can provide for poor unhappy little Baz at the moment. Oh, I'm a bad parent.
Dorian's mother and father are overseas at the moment and we are looking after their dog Billy. The animals don't get along. Billy runs up and down and up and down and squeals and barks and snuffles and yoicks at the cat - who sits hunched and deathly still. There is much evil-eyeing. The dogs seems terrified of the cat, but also quite curious about how the cat might taste.
The dog is a bit cute. A little, little bit.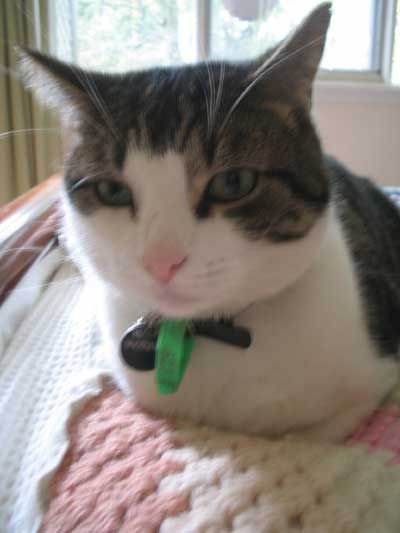 The cat emphatically doesn't think so, however.
I came home early this afternoon to take the dog out for a long run (that being the only hour to himself which poor little Baz will get today). And now the dog is exhausted and has gone to sleep on the chair behind me, but Basil is outside perched on the roof bitching and moaning. If I get up, the dog will wake up and follow me outside. He likes to follow. In fact, what with the waking up before dawn, the barking in the night, the smelliness, and the constant "play with me, play with me, PLAY WITH ME," I'm getting an inkling of what having children must be like....