Ok, here's my project: or perhaps it's a meme: though I doubt anything qualifies as a meme if only one person is onto it. Well, anyway, every Friday I do a different piece of sculpture selected from the vast numbers littered around lovely Melbourne. My only criteria are: it must be outdoors, it must be more or less permanent, and it must be in a publically accessible location. (Suggestions, especially for sculpture in the 'burbs, are very welcome.)
#11 Babushka Dolls
Atherton Gardens Housing Estate, Brunswick St, Fitzroy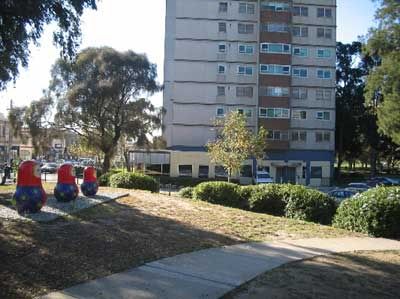 These three painted concrete figures are modelled on the familiar nested
Matryoshka
or Babushka dolls. They stand in the grounds of
Atherton Gardens
, a postwar-era Housing Commission high-rise public housing estate in Fitzroy, and they are the product of a collaboration between estate residents, Work for the Dole scheme participants, and artist Bronwen Gray. They were installed in 2002.
The dolls themselves are nice, unassuming things. The only difference between the three is scale: the smallest is about 70cm high, and the biggest perhaps 1.2m at most. Each doll has a face on each side, and the face is simple and schematic, like the rest of the painted decoration, done in bright, clear colours with unaffected, functional brushwork. Those bright patches of colour certainly stand out from the dismal grounds of the estate. The dolls are embedded in a very low platform of cement studded with smooth white stones.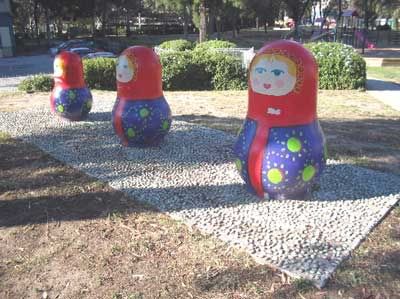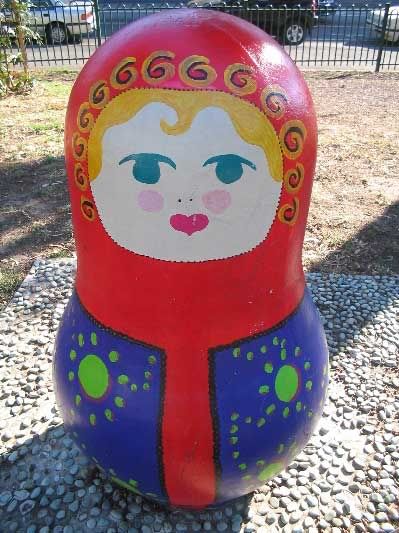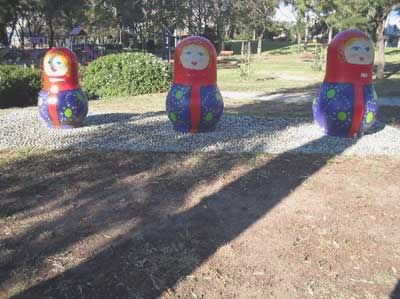 I assume the dolls are meant to represent family, the maternal, the domestic, homeliness, and folk culture, and the centrality of all these things to the traditions emigrants bring with them to their new countries. The majority of the residents at Atherton gardens are of Vietnamese and Chinese backgrounds, and in that light the choice of these figures strikes me as just a little strange: strange but interesting. I wonder if they aren't a little bit phony, perhaps: they are just so thoroughly ethnic and old-world, yet it's an unmistakably European, White ethnicity - the dolls are short, round, pale skinned, pink cheeked and blonde-haired - and so they represent a totally unthreatening image of multicultural identity. Whether the people who live at Atherton Gardens view their lives in those sorts of terms, I don't know, but somehow I would find it hard to credit.
It's interesting, too, that the largest doll is signed by the artist in charge of the project but there is no other on site information about who made the sculptures, or when, or anything like that - nearly every other public sculpture around Melbourne is accompanied by some sort of plaque.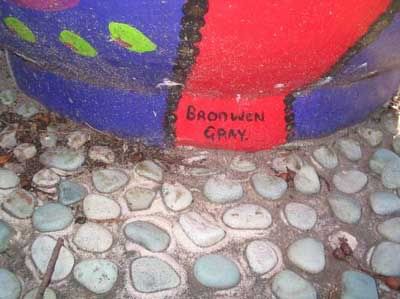 Well, as I said already, they do brighten the place up if nothing else. And if the absence of grafitti is anything to go by, the locals don't bear them any great dislike.