Ok, here's my project: or perhaps it's a meme: though I doubt anything qualifies as a meme if only one person is onto it. Well, anyway, every Friday I do a different piece of sculpture selected from the vast numbers littered around lovely Melbourne. My only criteria are: it must be outdoors, it must be more or less permanent, and it must be in a publically accessible location. (Suggestions, especially for sculpture in the 'burbs, are very welcome.)
#8
Eagle
Wurundjeri Way, Docklands (near Colonial Stadium)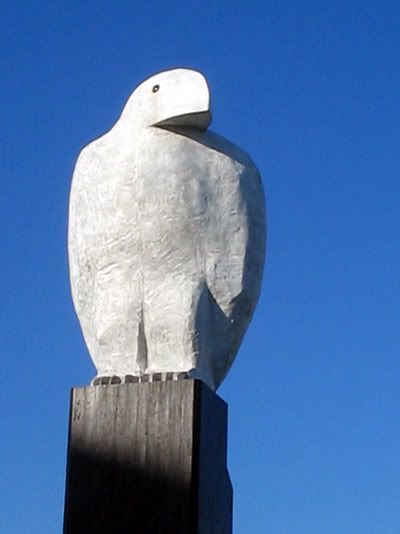 This beautiful and awe-inspiring object stands 25 metres or about seven storeys high. The pediment is painted jarrah fixed on a steel frame, and the bird itself is cast aluminium which has been painted to resemble polychromed hardwood. It is by
Bruce Armstrong
, unquestionably one of the most important sculptors currently working in Australia, and it was erected in May 2002.
The sculpture is also known as
Bunjil
, which is the name the
Wurundjeri
people use for the creator figure, who is an eagle.
I don't think these pictures capture much of how great this sculpture is in reality. It's so solid and calm, and so big. The scale is what makes it so amazing; you can see it from several different roads that go past the site, and from the train line, but it's not meant to be seen or approached from ground level. If you do park the car somewhere precarious and walk up to the base, this is what you'll see: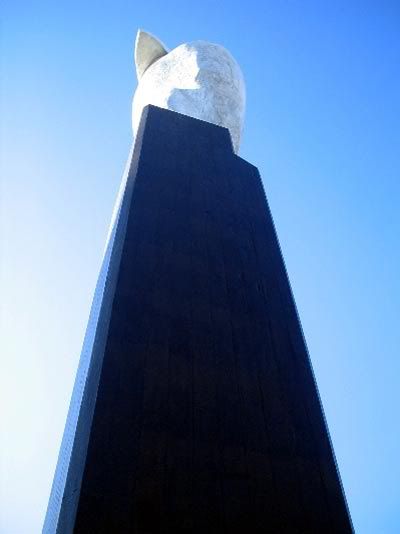 Eagle
more than holds its own against the revolving, panoramic backdrop of city skyscrapers. The effects of distance and proportion make it look much larger than some buildings - the two-step building to the left in this photo is the tallest office block in the Southern hemisphere.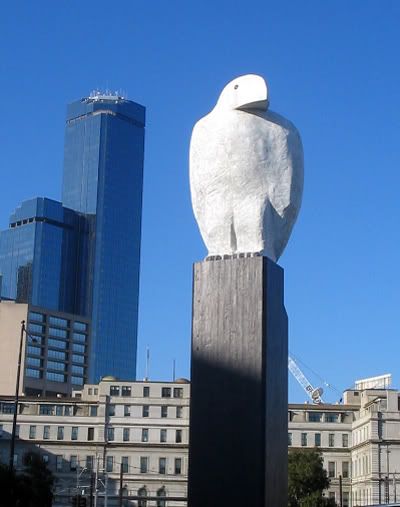 The way the statue's pediment echoes the shape of the towers makes it almost look like the bird is perched atop another skyscraper. A sort of avian King Kong.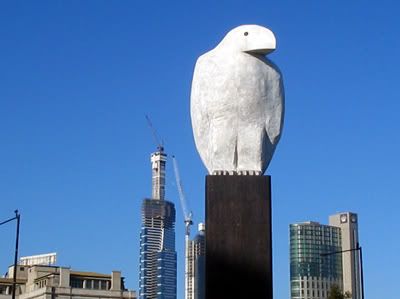 The
Eagle
plays with psychological scale as well; the increasingly fussy, toytown city skyline starts to look like the out-of-kilter element, not the bird. We begin to see the urban landscape as the bird does, peering through its small, bright, shiny black eye; a portal into the unimaginably different and pure reality of animals and of flight.
The bird looks like a wild thing from wordless nature; at the same time, it has a serene, poetic simplicity and force, an impeccable mass and authority, that reminds me of things like Pacific Northwest totem carvings and Tiwi figures from Melville Island; its massive, feathered feet also make me think of Maurice Sendak's picture books.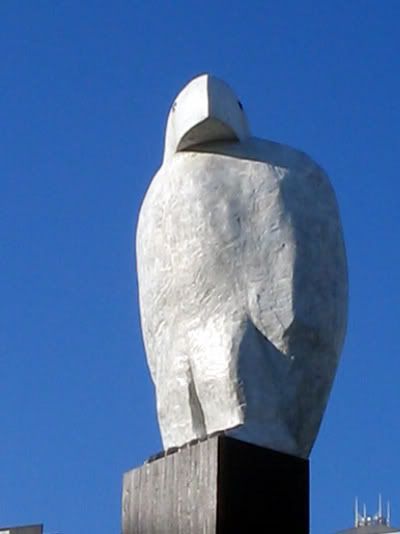 Eagle
was commissioned for the Docklands precinct under the Docklands Authority's public art scheme, which requires all the half-dozen developers operating in the precinct to spend 1% of the capital cost of their projects on public art. The most recent estimate I saw was that sixty million dollars would eventually be spent this way - if the developers don't run out of sites first, which is looking like a distinct possibility.