Ok, here's my project: or perhaps it's a meme: though I doubt anything qualifies as a meme if only one person is onto it. Well, anyway, every Friday I do a different piece of sculpture selected from the vast numbers littered around lovely Melbourne. My only criteria are: it must be outdoors, it must be more or less permanent, and it must be in a publically accessible location. (Suggestions, especially for sculpture in the 'burbs, are very welcome.)
#7
The Public Purse
Bourke St Mall (corner Bourke & Elizabeth Sts), City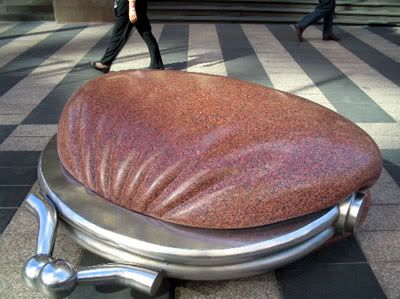 The Public Purse
is made of highly polished red granite and stainless steel, and it's the work of
Simon Perry
. It was installed at its present site in 1994.
If anyone did a study into which of our open-air art things Melburnians like best, I reckon this would be in the top five: the City of Melbourne never spent a better thirty thousand dollars.
I normally have reservations about public art which pulls blips on the cutesy radar, but in this case the thing is also genuinely witty and clever, and beautifully made, and works superbly in its environment.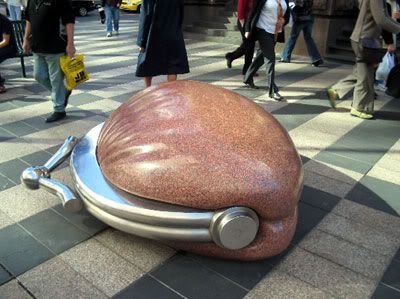 Perfectly judged for the mood of the place: a shrewd and canny way to spend public money, but attractively self-deprecating with it: part Surrealist, part groanworthy pun. What's your take?